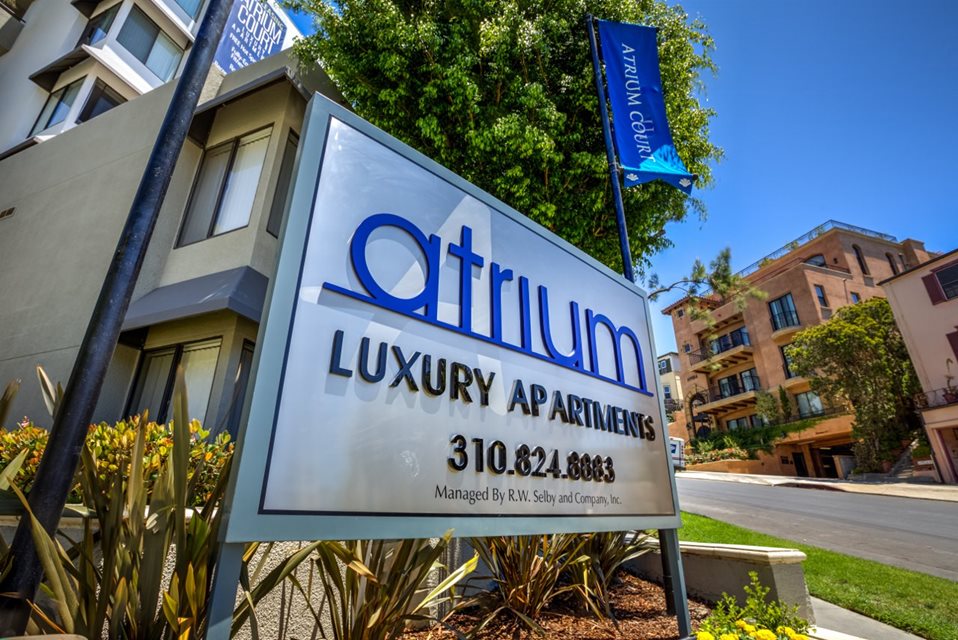 It's the beginning of apartment hunting season! Many Bruins are currently trying to find affordable apartments that are close in proximity to UCLA, but with such a high demand, it's often difficult to find the perfect match. Let's start finding apartments early! I'll be sharing a few of the popular apartment complexes around UCLA and review them through resident interviews. This week, we will be reviewing Atrium Court Apartments, one of the more popular complexes situated at 10965 Strathmore Drive.
For those who don't know where it is, this apartment is on Strathmore, up the hill past Landfair and before Glenrock. If you go past the fraternity houses, and over a steep hill, you will arrive at Atrium!
Their overall rating on apartmentratings.com is a 4.3. The floor plans consist of 2 bedroom 2 bathroom apartments, 1 bedroom 1 bathroom apartments, and 2 bedroom one bathroom apartments. I've toured one of their apartments before, so I know that the apartments are relatively large, with a big living room area, and spacious bedrooms. The bathrooms are also very new and clean which is definitely a plus! Many of the rooms are also nicely furnished, with futuristic thermostats that make the living space much more homey.
Sylvia Chang, currently a third year financial actuarial math major, has been living in Atrium Court for two quarters already. She lives in a 2 bedroom 2 bathroom complex with three other roommates. When I asked her what she really likes about the apartment, she said its proximity to campus. She also claims that there are sufficient amenities in the complex such as the gym, a hot tub, and a rooftop that has a beautiful view overlooking Westwood. Despite being relatively close to the frat houses, Sylvia claims that the surrounding area is quiet. There are also nice managers who say hi to you everyday, and most importantly, it has a reasonable cost for a nice apartment. From what I have found out from the residential manager of Atrium Court, a 2B2B apartment costs approximately $4500.
Annie Chung, also a third year student studying art history, enjoys Atrium for its cleanliness and uncarpeted floors. She also likes how each unit has a nice balcony that is a great place for friends to come over, or just to chill. Annie also thinks the maintenance staff are very nice and friendly.
E-Ming Huang is a fourth year neuroscience major. This is also his first year living in Atrium Court, and I asked him what he doesn't like about his apartment complex. For a 1B1B he is living in, E-Ming considers $3900 monthly rent to be too expensive, and this, according to him, is one of the cheapest prices. There is also no laundry machines in each apartment, but several communal ones which means he sometimes has to wait in line to do laundry. No utilities or WiFi are included in the rent either, which tallies up to approximately $200 more on top of the rent. However, E-Ming does think that the maintenance is well done.
All in all, it seems that Atrium Court has decent reviews, despite it being on the slightly pricier side of the apartments in Westwood. Stay up to date with BruinLife's blogs if you want more upcoming apartment reviews!