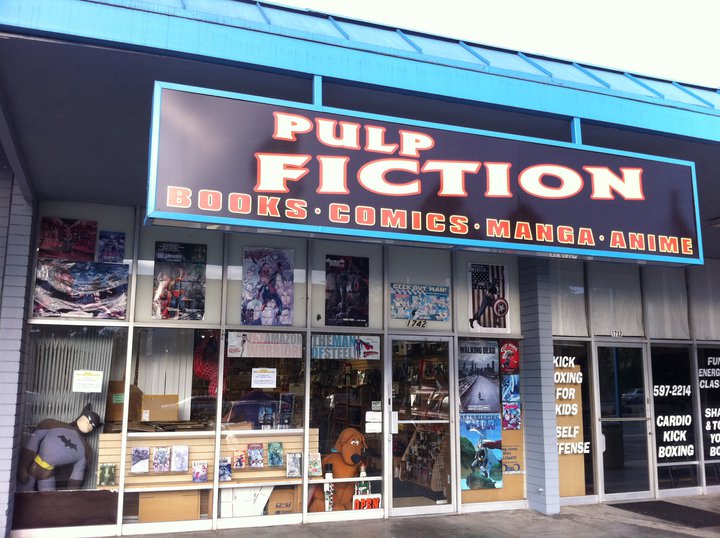 Pulp Fiction Comic Store in Long Beach, CA
Los Angeles is home to a wide array of arcades, comic book outlets, and retro game shops. Fortunately, this means that UCLA students can spend their downtime foraging for unique novelty items all over the city. When it comes to buying comics in particular, it can be a surprise to learn just how many locally-owned stores offer enormous selections of merchandise at discount prices. Below are three of the best places to stop in Los Angeles for graphic novels and collectible art. Do you know the best part of this list?
Each store is reasonably close to campus, and it only takes a few dollar bills to leave with a handful of gems!
---
Golden Apple Comics
7018 Melrose Avenue (15-20 minute drive from UCLA campus)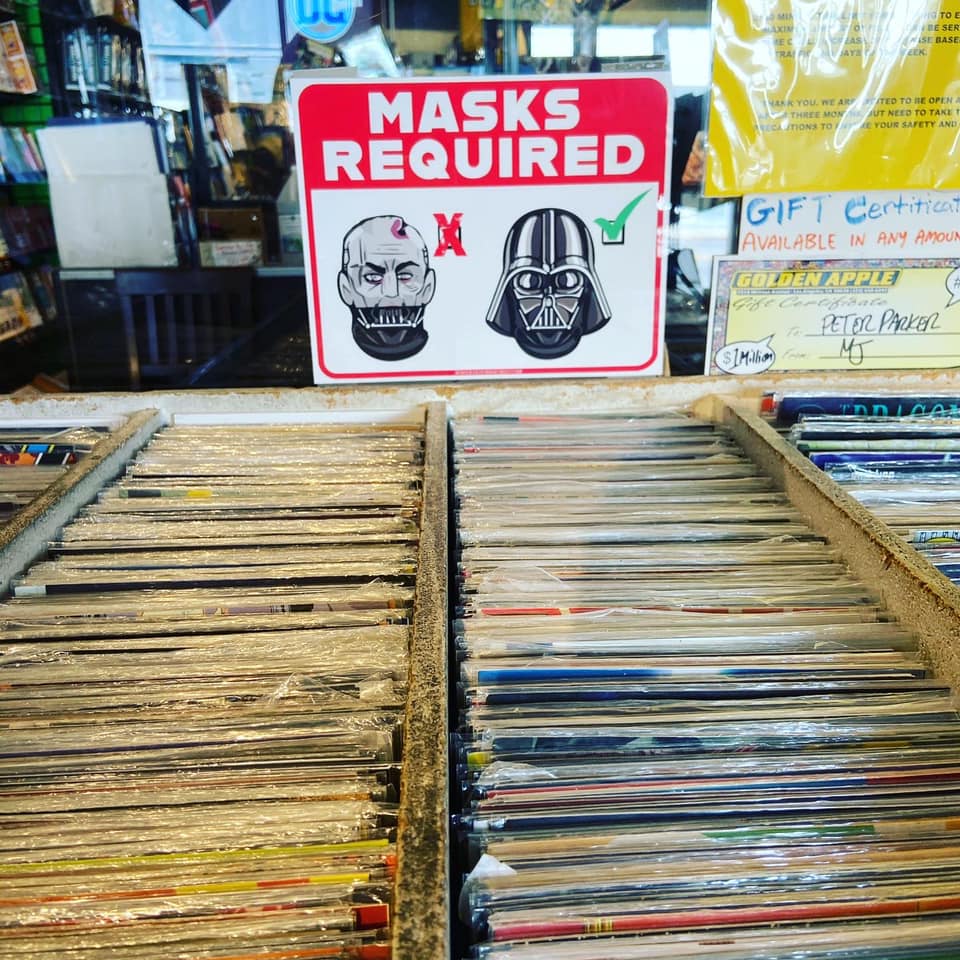 Photo by Golden Apple Comics on Facebook
This spot rests in the heart of Hollywood, offering a plethora of collectibles, games and of course, graphic novels. Golden Apple Comics may not boast the cheapest prices on this list, but it is certainly the most appealing option when it comes to an immersive shopping experience.
Golden Apple has gained a great deal of attention over time due to the huge selection of new materials that populate its racks. In a shift toward modernization, Golden Apple Comics encourages its consumers to take advantage of the GAC website and online ordering system. This is also where users can access the Golden Apple Comics blog, podcasts and YouTube channel.
There is plenty here to choose from online or in store, and although it is further away from campus, this graphic novel haven makes an effort to create hassle-free experiences for its patrons. One minor downfall to this comic shop is that it can get a little crowded inside. Nevertheless, highly worth a visit!
Further information regarding hours and preorders can be accessed at their website goldenapplecomics.com.
---
Pulp Fiction Comics
4328 Sepulveda Blvd, Culver City & 3925 E Anaheim St, Long Beach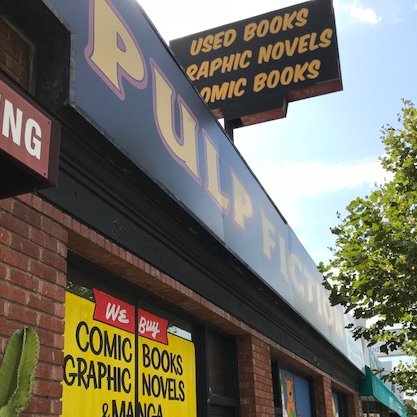 Photo by Cille Andrea Lyngstad
Anyone searching for comics in Los Angeles is bound to perk up at the name of this one. Pulp Fiction Comics can be found in two locations within L.A., the closest being just a ten minute drive from campus. Here, students may chat with friendly staff members and browse through racks upon racks of inexpensive comics.
Culver City's Pulp Fiction Comics is highly active on Twitter @pulpfictioncc, keeping avid followers up-to-date with what is going on in either shop location. Upon stepping into this store, customers are sure to be met with an overwhelming arrangement of boxes filled with cheap modern comics and old magazines, the majority priced under a dollar apiece. Pulp Fiction Comics is extremely organized which ensures a peaceful ambiance for everyone who happens to be perusing the shelves within. A negative that might be worth noting about this particular stop is that, despite the name, it lacks a significant selection of actual pulp – aside from a few Archie comics stuffed toward the bottom of one or two aisles.
---
The Comic Bug
4267 Overland Avenue (10-15 minute drive from UCLA campus)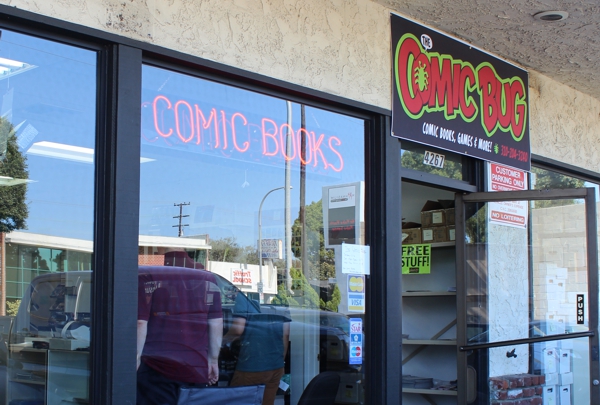 "Just Opened: The Comic Bug Invades Culver City"
The Comic Bug is yet another notorious comic book haven in Culver City. Albeit small, this store is brightly lit and hosts a very down-to-earth environment, with regular customers stopping by frequently throughout the day. If something can't be found in the store's front area, there is also a room in the back filled with figurines and valuable issues from Marvel and DC collections.
The Comic Bug quite possibly takes the cake for the best atmosphere out of these three stores, and is a great place to go for some peaceful browsing. There are incredible deals offered here throughout the year, the only negative being the fact that the discount boxes are often not as organized as the rest of the stock. Because of this, pinpointing comics or specific collections on clearance may be take a bit of time. For a quicker shopping experience, however, the store's friendly staff members can be reached at (310) 204-3240.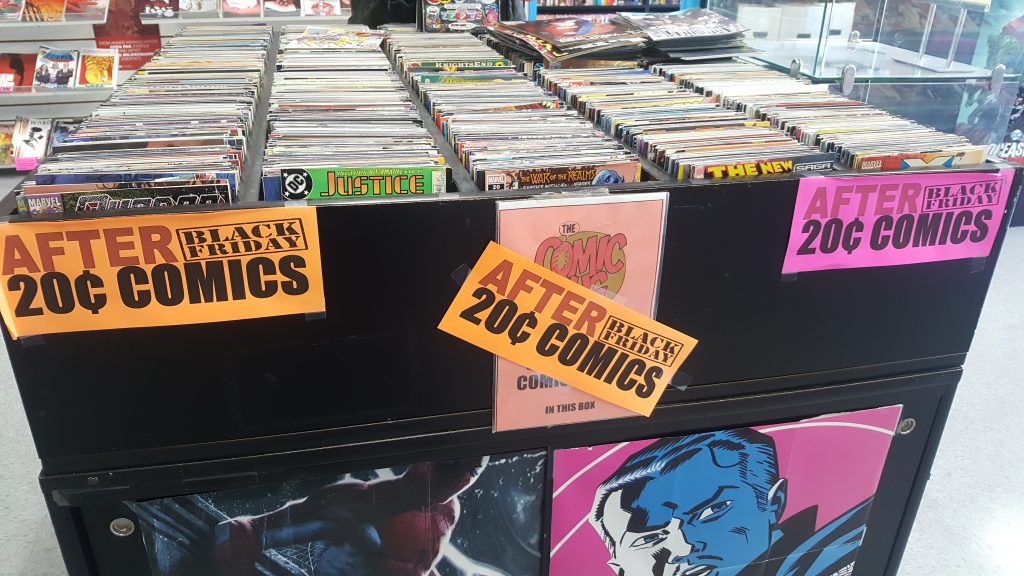 Photo by Amber Thatcher
Hundreds of comic books can be found at unbeatable prices here, allowing customers to walk out happy with a bag full of books and their wallet intact.
---
Be it modern graphic novels, manga books or collectibles, these three stores each offer vast collections that will fit the average comic connoisseur's needs. In choosing which shop would be the best fit for the individual consumer, it's always helpful to consider personal preferences of ambiance and shopping experience. But since they're all so darn budget-friendly, what's really the harm in visiting them all?