"Life is the weapon; school is the ammunition."

Alex Nunez
"Life is the weapon; school is the ammunition," stated Alex Nunez, a third-year transfer student who studies history here at UCLA. His life experiences have shaped the person he is today, grateful to have this opportunity to study at the number one public university in the nation. With a newfound passion, he is excited to succeed in his classes, as life outside of the classroom before presented its own challenges.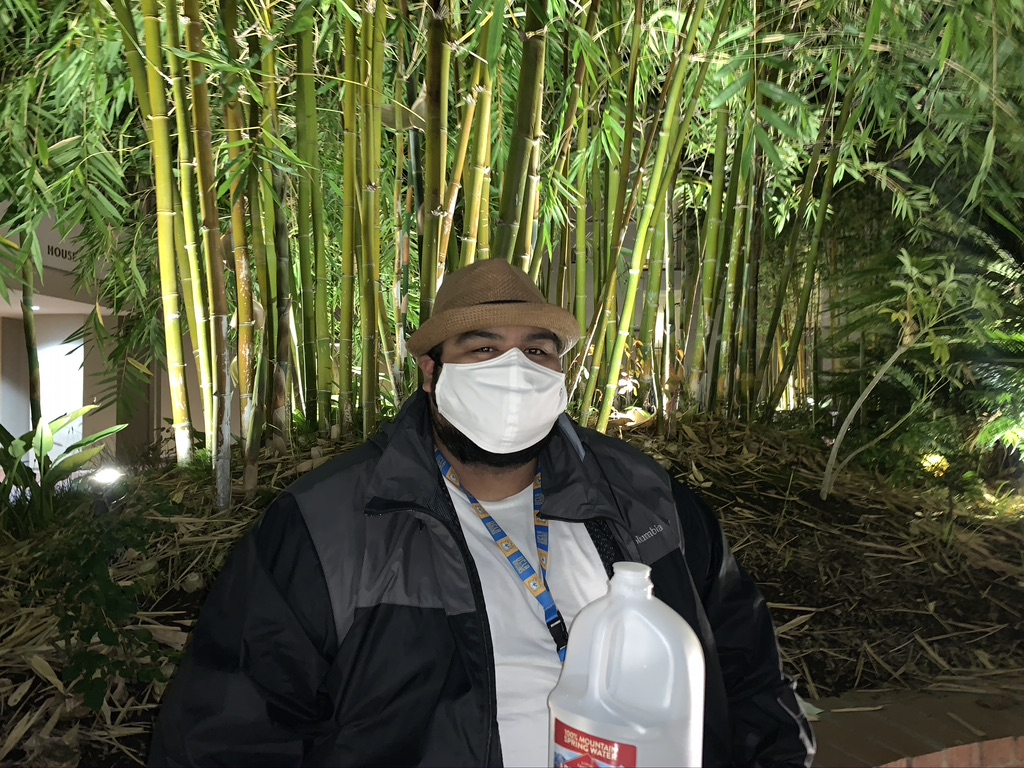 Alex Nunez in Sunset Village (Photo by Stanley Dunn)
Growing up in an abusive family, Nunez had a rough time paying attention in school and mingled with a gang that he saw as the only accepting people in his life. He ended up dropping out of high school at the age of 17. He eventually got his General Educational Development certificate with a GPA of 0.89.
Even with the cards stacked against him, he chose to not let this label of a high-school dropout define him. He decided to pursue his passion for music that had been with him since the age of seven and moved from the Bay Area to New York. Alone in a new city at the age of 21, he worked two to three jobs with a strong desire to make something of himself. He did what it took to make it and ended up playing the congas professionally.
"When I have a passion for something, I go for it 100 percent. like how I moved to New York.."?)" class="inline-comment collapsed">Like I moved to New York for the passion of music."
As he took the train to work every day, Nunez observed the apparent income gap between where he lived in the South Bronx and Upland New York where he worked. He had a strong desire to keep playing music, but he also felt compelled to figure out what created this gap and why the people in the wealthier part of the city seemed to be more well-to-do. After a few years of figuring himself out and wanting to know more about why some cities are more or less fortunate than others, he called his family across the country and ended up going back to school at a community college.
During his time at community college, Nunez was taken aback by one English class he took as a prerequisite. In this class, Nunez read a book called "Pedagogy of the Oppressed" by Paulo Freire which increased his appreciation for higher education. Referring to his English professor, he stated, "She taught English with a social justice lens." Both the book and his professor helped him fully understand the real-world applications of higher education. He talked about how he discovered more of the truth, similar to the ideas he thought about on the train in New York. His English professor told him he had an inquisitive mind and a way with words that stood out in the class, something nobody ever told him before. She was the first professor to believe in him and tell him to research what he liked. Nunez gravitated towards studying history; as for his career, he realized becoming a lawyer was a path that piqued his curiosity. Being recognized for his academic work opened his mind to a whole new world of opportunity.
"When I started learning all these things that I never knew about, it made me hungry, bro. It made me hungry to learn more."
Now Nunez is living on campus here at UCLA, something he never even dreamed would happen just a few years ago. This drive to unlock his potential fuels him to this day.
"The same passion I had for music (is what) I have for the school now, as everything about me and what I focus on now is trying to get to law school."
Talking to him made me understand how good of a feeling it is when a person realizes they are good at something they may have doubted themselves in before. It's almost as if his purpose was found through the experiences of life. Nunez went to school when he knew he was ready to learn, something he says more people should do so they can truly enjoy their studies. He is grateful to be living on campus, as he is surrounded by those who also share that very passion that led him to be who he is today: a proud Bruin.
"Now I know if I can get here, I can get farther, that's for sure. You've gotta think big in order to go big."