All photos by Victoria Dao
The Taste of Boysenberry Festival, created by Walter Knott in 1926, is an annual event spanning from late March to early May that highlights the complex flavors and diversity of the boysenberry. During this time, guests are able to enter the Knott's Berry Farm amusement park grounds and explore over 80 unique entrée, dessert and drink options, all containing elements of boysenberry.
Upon ticket purchase, each guest receives a comprehensive menu as well as a "tasting card," which they can use to enjoy up to five food items throughout the venue. The festival offers 34 different food vendors that serve diverse arrays of food items, including boysenberry cakes, boysenberry beef stew, and even funnel fries with boysenberry dipping sauce.
In addition to food vendors, participants can also enjoy boysenberry preserve vendors, Knott's Berry Farm merchandise vendors, carnival games, gemstone exhibits, flower arrangements, and, of course, roller coaster rides, which were fully operational pre-COVID-19.
Accompanied by my family and in accordance with Knott's Berry Farm's COVID-19 precautions, I embarked on a food journey to taste test and review 17 unique food items available exclusively during the annual Taste of Boysenberry Festival. It was my first time ever attending the festival, let alone stepping foot into Knott's Berry Farm since the early 2000s, thus giving me a fairly open-minded, excited, and gluttonous outlook on the event. I decided to review each food item on the basis of four criteria: 1) Presentation, 2) Overall taste experience, 3) Authenticity and underscore of boysenberry flavor, and 4) Value given the portion size.
We started our food journey at Knott's Berry Farm's Ghost Town, the area with the most extensive list of food vendors. In no particular order, here are the foods that we tried in Ghost Town, along with the vendors we purchased them at:
1. Boysenberry Brisket Tater Tots topped with Crispy Jalapeno Chips and a Boysenberry Aioli Sauce from Sutter's Grill
Presentation: 9.5/10
Overall taste: 8.5/10
Authenticity of boysenberry flavor: 4/10
Value: 10/10
The tater tots were the first entrée we had for the day, so we had gone in with high expectations and hungry stomachs. We ended up using two slots of our tasting cards to purchase two portions of these tater tots because the presentation was so appealing. The meal was served in a plate with slightly raised sides, making it very easy to split the dish amongst my family. The tot-to-brisket ratio was great, and we actually ended up with some leftover brisket. Though the tater tots themselves were essentially the same crispy tots that you can find at your local diner or in a grocery store's freezer section, the sweet yet smoky barbecue brisket enhanced the flavors, creating a wonderful carb-and-protein experience you never thought you needed. To top it off, the boysenberry aioli really brought the dish together, cutting into the fat and grease with a sweet and tart accent. The boysenberry aioli, however, did not taste exactly like boysenberry; rather, it resembled a more strawberry jam-like substance. I would say that the portion size of this item was actually a bit too large, which I did not know would be possible at a festival like this. I immediately felt full after eating this item, which speaks to the value of a single serving of this delicious entree. I would definitely recommend getting a portion of these brisket tater tots, but perhaps only one for your party to prevent getting too full too early on in your eating adventure.
2. Boysenberry BBQ Brisket Mac and Cheese from Wilderness Dance Hall Patio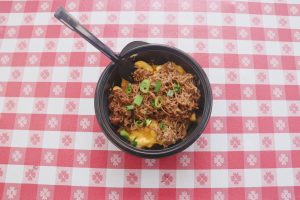 Presentation: 6/10
Overall taste: 8/10
Authenticity of boysenberry flavor: 0/10
Value: 9/10
I was perhaps the most eager to dig into this dish, as the smell wafting from the mac and cheese bowl was incredible. The presentation of this item was not as appealing as the brisket tater tots, but the overall taste was almost paralleled. The mac and cheese was a perfect texture, being neither too dry nor too wet. The flavor of the mac and cheese was also not too overpowering and complemented the brisket well. In comparison to the brisket in the tater tots, the brisket in this dish was not marinated with barbecue sauce, and for this reason, I found the flavor slightly lacking. Nevertheless, I do still think that the mac and cheese and brisket combination worked extremely well and overall created a balanced entrée. Unfortunately, where this item fell short was its lack of boysenberry flavor. If served this dish unprompted of its boysenberry festival origins, I would never guess that there were any traces of boysenberry in the bowl; the berry was virtually non-existent. The portion size was just right, as I felt satisfied, but not too saturated taste-wise. I would recommend this item if you are just looking for a staple entrée to carry you through the event and are not too keen on the taste of boysenberries.
3. Pork Bao Buns with a Boysenberry Kimchi and Nam Pla from Sutter's Grill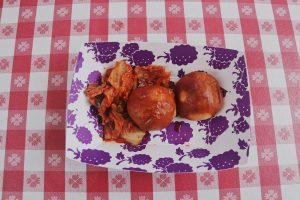 Presentation: 3/10
Overall taste: 2/10
Authenticity of boysenberry flavor: 0/10
Value: 4/10
Sadly, this item was not a favorite of ours. Outside of the festival, my family and I are big on the bao front and were excited to dig into the baos with kimchi, one of our favorite side dishes. At first glance, I was pretty disappointed by the presentation of the baos and kimchi. The baos were placed in the paper tray free-range, which caused the baos to become soggy with the kimchi juices within seconds of receiving them. The baos were quite small and only came in pairs per serving, which is on the smaller end of portion sizes that I saw throughout the festival. When we tried the baos, the reaction was fairly consistent between my family and I: How is it so incredibly sweet, yet simultaneously so bland? We could not taste the pork because of the overly sweetened bao bun that detracted from the comprehensive taste. Though the kimchi was quite good when I tried it separately, it mostly tasted of generic, store-bought kimchi with no traces of boysenberry flavor. The pork baos were a big miss for us, so I would recommend that you skip this dish.
4. Flavored Funnel Cake with Boysenberry Ice Cream, a Lemon Drizzle and White Chocolate Sprinkles from Sutter's Funnel Cake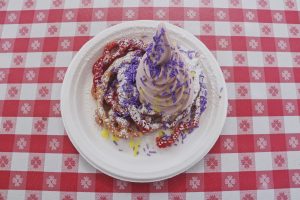 Presentation: 10/10
Overall taste: 10/10
Authenticity of boysenberry flavor: 9/10
Value: 10/10
If you get a chance to go to a Taste of Boysenberry Festival, I highly, highly recommend that you try this dessert. It truly accomplished perfection on every food front, being enjoyable to look at and eat without overwhelming us with any particular flavor or aspect. To start, the boysenberry ice cream with lemon drizzle was masterfully balanced with boysenberry flavors: not too tart, yet not too sweet. It was subtle while successfully cutting through the oiliness and heaviness of the funnel cake. The funnel cake was crispy and maintained its crispiness despite the ice cream's weight on top of it. The batter was made out of traditional funnel cake batter swirled with boysenberry-flavored batter, which further reinforced the boysenberry flavors in the ice cream. Though the lemon drizzle and white chocolate sprinkles did not contribute much to the dish's overall flavor, they certainly added to the presentation, officiating this food item as the most picturesque item of the day. The portion size was also just right and did not make us too sick on sweets just yet. The funnel cake was a great buy and great experience, and had we not ran out of tasting card slots, my family and I most likely would have purchased another.
5. Elote with Boysenberry Mayo, Cotija Cheese, Butter and Tortilla Strips from Fireman's Brigade Barbecue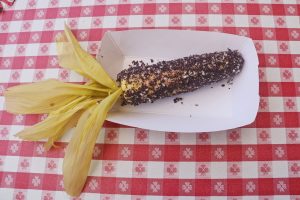 Presentation: 9/10
Overall taste: 5/10
Authenticity of boysenberry flavor: 0/10
Value: 5/10
To put it quite plainly, this item was simply just corn and nothing else. We were initially very excited to try this food item because of its presentation, as we saw many other guests carrying around this beautiful ear of corn speckled with purple and white crumble. However, after tasting it, we discovered that the purple and white specks did not contribute to the flavor profile of the item at all but were rather maximized for presentation purposes. The corn lacked all presence of boysenberry, tortilla chips, cheese, and butter that we expected of this elote-based dish. Although the item was actually quite refreshing after just filling ourselves up with heavier foods, it is not worth using a slot in your tasting card.
6. Apple and Chicken Sausage with Boysenberry Mustard on a Boysenberry Bun from Fireman's Brigade Barbecue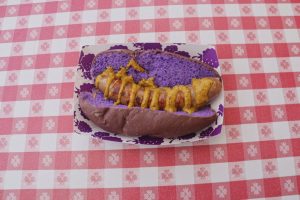 Presentation: 10/10
Overall taste: 3/10
Authenticity of boysenberry flavor: 6/10
Value: 8/10
The presentation of this hot dog was very unique and appealing, as it is fairly uncommon to spot a deep purple hot dog bun on an average day. Additionally, the boysenberry mustard made for a very picturesque photo on top of the apple and chicken sausage. However, I cannot give as much praise to the taste. Though the bun did actually have hints of boysenberry flavor that made it pleasantly sweet, the boysenberry mustard severely detracted from the experience. Its flavor was reminiscent of wasabi, perhaps caused by an addition of horseradish, making the task of eating the sausage particularly difficult. It became almost impossible to proceed to eat more after one bite because of the mustard's overwhelming, sharp and spicy flavor. The mustard also lacked any essence of boysenberry due to its spiciness. The sausage itself was not the best sausage I have ever eaten, but it was also not the worst. I felt that the texture of the sausage was the most off-putting factor, as the outside of the sausage was tough and difficult to chew through. It felt like I was working a bit too hard to overcome obstacles in order to eat this item, which, of course, is not an ideal food experience. If you are a fan of horseradish (unlike me), you may enjoy this item, but otherwise, I suggest you save your slots for a different item.
7. "Hint of Lemon" Churro Bites with a White Chocolate Sugar and a Boysenberry and Chocolate Dipping Sauce from the Churro Factory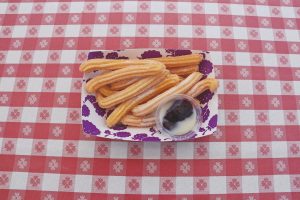 Presentation: 4/10
Overall taste: 5/10
Authenticity of boysenberry flavor: 7/10
Value: 9/10
As big as my family and I are on the bao front, we are equally as enthusiastic when it comes to churros. Thus, we were extremely excited to dig into this well-portioned and picture-perfect churro item with a small boysenberry side. Trying the churro bites alone, I thought the flavor was quite lacking because of its absence of the traditional cinnamon-sugar flavor you would typically expect of store-bought or vendor-made churros. These churros were simply just batter adorned with white sugar, which made us rely heavily on the small cup of boysenberry and chocolate dipping sauce for flavor. The dipping sauce did, in fact, compensate for the lack of flavor in the churro bites themselves, staying true to the boysenberry theme. Having a bit more of the dipping sauce to finish off the churro bites would have been nice because by the time the sauce was gone, we still had about five churro bites left. This item did not fulfill my churro cravings, but did score high on boysenberry flavor authenticity.
8. Boysenberry Basil Lemonade from Chowhouse Ice Cream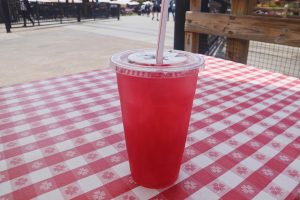 Presentation: 6/10
Overall taste: 3/10
Authenticity of boysenberry flavor: 3/10
Value: 7/10
After a long morning of plowing through copious amounts of heavy, savory foods, taking a break with a fresh boysenberry basil lemonade sounded like the reset we needed. Presentation-wise, we were quite hopeful that the lemonade would live up the praise it received from Knott's Berry Farm employees, as the bright, pinkish-purple color screamed boysenberry. However, once I took a sip of the lemonade, it became clear why I had never tried sweet drinks with herbal accents before: the flavor combination did not agree with my palate. All I could taste was basil with the faintest aftertaste of a remotely berry flavor, which was a huge let down after being so excited about the presentation. The lemonade came in a fairly large cup, which would be a great volume for those who are enthusiastic about sweet herbal drinks. I, unfortunately, do not think that the addition of basil in this drink was the best move, as it strongly detracted from the sweet and tart flavors of the boysenberry.
9. Boysenberry Macaron from Chowhouse Ice Cream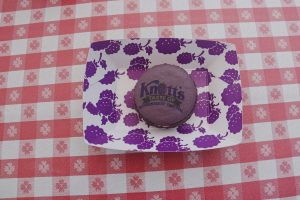 Presentation: 10/10
Overall taste: 9/10
Authenticity of boysenberry flavor: 9/10
Value: 9/10
Once the Knott's Berry Farm employee handed me this macaron, I immediately smelled the most fragrant and wonderful boysenberry scent that I hadn't yet encountered. If the boysenberry festival had a signature dessert, I strongly believe that this would be the one. Not only does the macaron have a "Knott's Taste of Boysenberry Festival" stamp on its surface, but its deep purple macaron shells and pinkish-purple macaron filling radiated boysenberry flavor from miles away. This macaron truly represented the essence of the Taste of Boysenberry Festival. The macaron shells were not too crumbly, nor too soggy, and they had a strong boysenberry flavor independent of the filling. Once I reached the macaron filling, however, I was immediately surprised and pleased. The filling was quite different from macaron fillings I have had in the past, as it was more pasty and firm in comparison to the whipped and silky textures of traditional, French patisserie macarons. Though this may be a turn-off for some, I actually quite enjoyed the texture of the filling as it allowed the macaron to stay fresh for a longer time instead of becoming soggy or liquidy. I also think that because of the dense macaron filling, it executed the boysenberry flavor effectively, as would be the case with a soft-serve ice cream. The macaron shell and filling together worked extremely well, delivering a perfect balance of boysenberry flavor without being too strong nor too subtle. The macaron was larger than a typical macaron as well, which made its flavors more enjoyable and contributed to its lasting impression. I would also highly recommend this item.
The next stop in our food journey was to Knott's Berry Farm's Boardwalk, known for its beach-side carnival theme. Continuing from the previous list in no particular order, here are the foods that we tried in Boardwalk, along with the vendors we purchased them at:
10. Boysenberry Milk Tea with Popping Pearls from Charleston Circle Coffee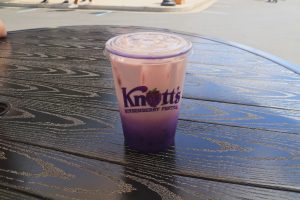 Presentation: 9/10
Overall taste: 5/10
Authenticity of boysenberry flavor: 7/10
Value: 8/10
Growing up in Southern California with its diverse food and drink selection has essentially conditioned me to be a self-proclaimed milk tea expert, especially in the fruit tea subcategory. Thus, I was more than excited to try this boysenberry milk tea, especially since it came with popping pearls, which are small spherical balls filled with a fruity juice interior that bursts when bitten into. At first glance, the presentation of this drink is stunning: the ombre pink to purple coloring, the cup's logo detailing, and the visual of small popping pearls at the bottom were picture perfect. However, do not be fooled, as it was the cup providing the purple gradient while the milk tea itself was solely a faint, pink color. My first sip of the milk tea was very good, as the boysenberry flavor came across nicely and the popping pearls served as a great textural difference. However, with each subsequent sip, consuming the drink became harder and harder because of the overwhelming sweetness combined with its creamy, milky taste. After about five sips, I had to tap out, as my palate had become very saturated by the drink's overall experience. This drink definitely packs a punch with flavor and texture, but it actually ended up being too much for me. It was very rich, and after a while, I did not think that the popping pearls added much to the experience. In fact, by my fifth sip, I had started to avoid the popping pearls because the fruity flavor of the pearls paired with the richness of the boysenberry milk tea was even more overwhelming. I do think that this drink was pretty good, but I do not agree with the large serving size. Though I shared this drink with my family, the serving size even then was still too large for us, as none of us could drink any further after our fifth or sixth sips.
11. Boysenberry Smoothie from Charleston Circle Coffee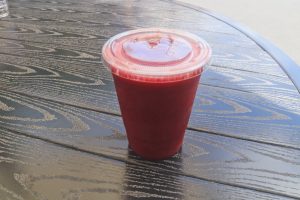 Presentation: 6/10
Overall taste: 9/10
Authenticity of boysenberry flavor: 10/10
Value: 9/10
My assumption when purchasing this smoothie was that it would represent the essence of boysenberry flavor, which I can gladly confirm was true to my experience. I have never had a boysenberry in its berry form, but I can imagine that this smoothie would be the closest to the flavor of a true boysenberry. The smoothie is very authentically tart and sweet with small boysenberry bits that you would expect from organic berry puree. The portion size was just right and my palate was not overly saturated after having this smoothie. On the contrary, my palate was very refreshed, and I immediately felt a cooling sensation after drinking it. I would definitely recommend using one of your slots to purchase this drink if you are looking for an item with true boysenberry flavors.
12. Boysenberry ICEE Float with Boysenberry Soft Serve from Hollywood Hits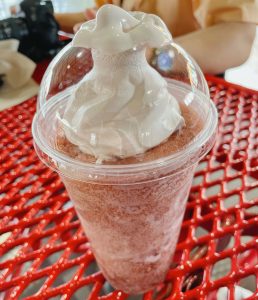 Presentation: 10/10
Overall taste: 9.5/10
Authenticity of boysenberry flavor: 8/10
Value: 9/10
Much like the case of the boysenberry smoothie, this boysenberry ICEE float is, what I would imagine to be, very accurate to authentic boysenberry flavors. The ICEE itself is sweet, but its sweetness is offset by the ICEE's carbonation, which sets this drink apart from all of the other drinks and desserts we'd had up to that point. The carbonation also created a textural experience by contrasting the soft-serve on top, which was a smooth texture with a subtle boysenberry flavor. I typically do not enjoy soda floats of any sort, but I do think that the fruity flavor of the ICEE made the textural differences between the soft-serve and the ICEE more manageable and enjoyable for me.
13. Chocolate Chip Cookie Pizza Slice with Boysenberry Soft Serve from Hollywood Hits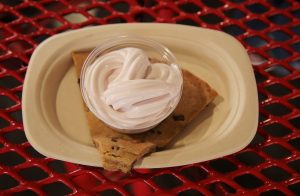 Presentation: 8/10
Overall taste: 9/10
Authenticity of boysenberry flavor: 9/10
Value: 9/10
Cookies have always been quite a tricky subject for me, as I am very picky with the texture, flavor, and overall concept of cookies that I eat. However, I can happily say that this cookie kept up with my high standards and expectations. The cookie was very chewy with a subtle and sweet taste, which was surprising given that the cookie was not freshly baked. The chocolate chips were nicely distributed and provided an added sweetness that the cookie dough itself may have lacked on its own. The cookie pizza was not too hot nor too cold, which provided the ideal surface for its soft serve accompaniment. The soft serve was the same soft serve from prior items, and thus, very enjoyable in flavor on its own and even better when paired with the cookie pizza. I also really enjoyed the concept of a cookie "slice," as the vendor where we purchased this cookie sold cookies primarily in pizza-like slices, which I thought was a clever idea. The cookie itself did not include boysenberry flavors in any way, but because it was served with the soft serve, and every other aspect of the cookie pizza complemented each other perfectly, it was easy to overlook that miss.
14. Boysenberry BBQ Carne Asada Pizza Slice with Cilantro and Onions from Hollywood Hits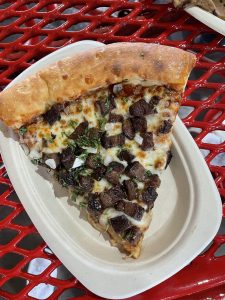 Presentation: 9/10
Overall taste: 7/10
Authenticity of boysenberry flavor: 2/10
Value: 9/10
I typically gravitate towards barbecue chicken pizzas outside of this particular festival, so this pizza was right up my alley. Though the pizza lacked boysenberry flavor, save for an added sweetness to the barbecue sauce, the composition of the pizza was very nicely balanced. The pizza had a barbecue sauce base, topped with mozzarella cheese, carne asada chunks and some garnishes to highlight. What I think shone the most in this pizza was actually the cheese. The cheese was just salty enough to balance out the sweetness of the barbecue sauce base, and let's not forget about how fun stringy cheese can be. Unfortunately, I did not think that the carne asada chunks were the best since it turned out to be quite bland, and I would have preferred thinner or shredded pieces of carne asada. However, from a texture and taste perspective, this pizza was comparatively very worth a slot in your tasting card.
15. Boysenberry Dippin' Dots from Dippin' Dots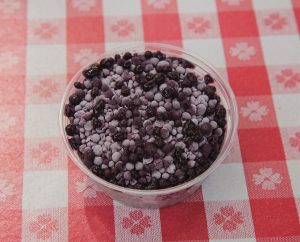 Presentation: 9.5/10
Overall taste: 10/10
Authenticity of boysenberry flavor: 10/10
Value: 10/10
Dippin' Dots, in my experience, are reputed for being a "fake" form of ice cream, as many people would describe Dippin' Dots to largely lack flavor or richness. However, I think that this boysenberry Dippin' Dots cup was executed very successfully, as every bite I took from the cup set off a blast of boysenberry flavor that was not too sickening or overwhelming in any way. The cup was overall very refreshing, perfectly sweet, and texturally very interesting. I found that the serving size for this item was one of the best of the day because if I'd had any more, I think I would have eventually felt overwhelmed by the unique texture of the Dippin' Dots. I felt that this Dippin' Dots stop was much-needed and a refreshing way to wrap up our day at the festival.
16. Boysenberry BBQ Glazed Wings from Boardwalk BBQ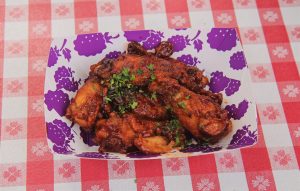 Presentation: 9/10
Overall taste: 10/10
Authenticity of boysenberry flavor: 1/10
Value: 10/10
If I could, I would rate these wings even higher than a 10/10 because they were simply that good. Their barbecue flavor was not too overwhelming, like many barbecue-flavored chicken wings typically are, and that subtlety is what made the wings so good. I found eating these wings so incredibly addicting, and by the time I finished one wing I was immediately onto the next. Like in several cases before, the glazed wings did not have much semblance of boysenberry flavor, but since the wings were so successful on every other front, I was willing to look past the small flaw. I do not think that the addition of more boysenberry flavor would have improved the wings by much anyway. The portion size of these wings was perfect and would definitely sustain the average foodie on their journey throughout the festival.
The final stop in our food journey was to Knott's Berry Farm's Camp Snoopy, home to only two food venues, but a couple of the most popular food vendors at the festival. Here is the food item that we tried in Camp Snoopy, along with the vendor we purchased it at:

17. Cheeseburger with a Boysenberry Onion Spread on a Brioche Bun from Grizzly Creek Lodge
Presentation: 2/10
Overall taste: 4/10
Authenticity of boysenberry flavor: 5/10
Value: 5/10
I was probably the most disappointed by the cheeseburgers than any other savory food item during my visit to the Taste of Boysenberry Festival. Cheeseburgers are usually a relatively reliable food item, so I initially thought that the addition of a boysenberry spread could only enhance the flavors of the burger. However, the cheeseburger patty was less than perfect: its texture resembled that of a reheated chicken or turkey burger, being extremely dry, dense and overall unpleasant. The bun of the burger was a very average brioche bun but, in comparison to the burger patty, was relatively good. The boysenberry onion spread did add a nice, sweet-yet-tart contrast to the rest of the components, but it was not potent enough to have any substantial effect on my palate, nor did it sufficiently combat the shortfalls of the patty. I would say that finishing this cheeseburger was definitely a challenge, and I would not recommend anyone to use a tasting card slot for this.
Though I may not have completely enjoyed every single one of the items I tried at the Taste of Boysenberry Festival, the experience of foraging through the selection of venues, trying new flavors, and experimenting with new food combinations is an experience everyone should try once in their life, if possible. While the festival is now over (March 5th-May 2nd), this festival was overall very fun and well worth the price, and I hope to return in the near future with another food review.