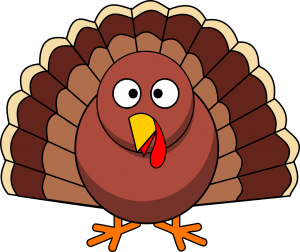 The seasons are a changing so bring out your thickest sweaters, fuzziest socks warmest coats, and I ensure that you will be sweating in five minutes. Los Angeles in the fall averages low 80's and high 70's holding true to the sunny southern California stigmatism. Though fear not Bruins,  there is still plenty of fall activities to do in November.
Price legend because we are all broke:
$- College kid budget friendly
$$- If you're feeling a little generous
$$$- Treat yourself
1.The Tofurkey Trot- $$
It's only in LA where we have a vegan, thanksgiving themed family friendly 5k. Vegan or vegan-not, anyone can partake in the run and attend the vegan food festival activities after. While I'm a fan of the turkey, I'd gobble up all the food anyways.You might have to fight someone for an avocado but best believe you're helping the environment by paying six dollars for organic, 100% cruelty free, locally grown coconut water; All of the run's registration proceeded go to the Factory Farming Awareness Coalition's educational program.
Date: November 25th
2. Holiday Ice Rink Silent Skate Party- $
Los Angeles feeds the desire of Hallmark movie lovers by creating an enormous ice rink in the middle of Pershing Square.The silent skate party consist of good times and chill vibes where you can listen to whatever music your heart desires without being judged by pop culture and mainstream media. Yes- I am talking to the LA country music lovers. However, on non-silent skate party days, you can es-skate some of the Los Angeles heat by renting a pair and living out your winter olympic dreams.
3. The Enchanted Forest of Light- $$
Everyone talks about the LA Zoo lights, but the Enchanted Forest of Light is a gem hidden just outside of Down Town LA. Be one with nature while watching light shows and immerse yourself in this fairytale experience. This is a cute cheap date idea, though you could also bring your friend, your aunt, your sister, the guy on the fourth floor you met yesterday, it's some wholesome fun with cool lights. Though if you're looking for a cute date idea, 10/10 recommend this place. It'd be lit.
Date: November 19th- January 6th
4. Snow day LA- $
Ice Ice baby. You thought that global warming is affecting the weather patterns of the world and have made cold places hot or hot places cold. Congrats, you are right! However, that does not mean LA natives are foreign to some snow. Echo Park host a snow day with tubing, night glow sledding and all the hot chocolate you want. Don't be snow though, the tickets are going fast! Fun fact: ice'd hot chocolate is just chocolate milk.
Date: November-December 30th
5. Volunteer – FREE 99
The month of November is for pumpkin spice, warm tone filters, and chunky sweaters. However, it's also a month dedicated to giving. We have places to go, things we need to do, and sometimes we forget to realize what we have. Try and put the "thanks" and "give" in thanksgiving throughout all of November.  Should you find yourself free on thanksgiving morning, some food banks and homeless shelters are providing thanksgiving breakfast and enthusiastically take volunteer to help in any way possible. Home for the holidays? Here is where you can find a local food bank near you. Busy on thanksgiving morning? If you're able to, donate to shelters or find a can food drive nearby throughout the entire month of November. UCLA's food closet is also always taking donations.
Date: All of November
Not fall-ing for the holiday's yet but still want to enjoy LA in November? For all the turkey day haters and winter grinches, there are still some pretty fun things a'happening.
That's right Bruins. It's that time of the year for the one football game we all go to. Clear your calendar, register for the rooter bus, buy your ticket and get ready to 8 clap your little blue and yellow heart out. We stand 2-8, have no stadium of our own, and have -1 chance of being conference champions but you best believe that Bruin pride is an everlasting fire that burns through any statistical analysis that projects us to receive a defeat from the snobby- red and gold wearing-legacy kids on the other side of LA. Can I get a GO BRUINS?
Date: November 17
2. Smorgasbord LA- $-$$$
Smorgasbord has come to LA. Get your wallets, walking shoes and looses pants out because this food festival did not come to play. Smorgasbord consist of food vendors, shopping opportunities and the occasional pop up entertainment. Make sure your phone's charged because all the food at the venue is insta-snap-twitter friendly without the need of VSCO or Huji. Check out their very aesthetic instagram
https://www.instagram.com/smorgasburgla/
Date: Every Sunday
3. Rooftop Cinema Club- $$
Why see a movie in theaters, when you can see it on an LA rooftop with the smog infused LA sky line in the background? Something about a rooftop just makes everything better. Bring a blanket, some snacks, and beverages of your choice. Rumor has it, bottomless popcorn is an option and the seats recline. Watch some classics like Clueless, enjoy Ryan Gosling on the big screen in La La land or start getting into the holiday spirit with Home Alone.
Date: November- December
4. Coffee festival LA- $
She is beauty, she is grace, she is a grande ice cold brew. It's every college student's dream. A day dedicated to the magic liquid that get's us through midterms, finals, the morning after thirsty Thursday. The LA coffee festival will consist of caffeine connoisseurs and lovers. Latte art classes will be taught, various strains will be sampled, and your heart will beat excessively with admiration as you get overly caffeinated. Kerckhoff coffee will never taste the same again.
Date: November 9th-11th
5. Wicked- The Musical- $$$
Calling musical lovers of all ages. Break your piggy banks, call in those IOU's, ask for your paycheck in advance, because after four years, Wicked- The Musical, is showing at the Pantages Theater in Hollywood. This musical ages like fine wine and is here just in time for the holiday season. Put on your fancy pants and call an Uber black for a fancy night out or go to just enjoy the beauty that is Wicked. But get your tickets ASAP!
November 28th- January 27th