Once home to white supremacists attempting to build a self-sufficient community, Murphy Ranch is now a sprawling collection of derelict buildings lodged in the Santa Monica mountains. It is just a half hour drive away from UCLA, making it a perfect weekend getaway for anyone with an adventurous streak. Walking on cracked roads, visitors can see everything from a bomb shelter to public gardens and even an entirely preserved building containing the town's old diesel generators. Graffiti adorns every inch of the buildings' remains, transforming decay into beauty that makes every vista picture worthy.
According to Atlas Obscura, Murphy Ranch was founded by Winona and Norman Stephens at the behest of a mysterious Herr Schmidt, a member of the anti-semitic Silver Legion of America, to build a hideout for Third Reich supporters in the United States in anticipation of a future Nazi takeover. Evidently, this takeover did not occur and following an FBI raid on the compound in the wake of the attack on Pearl Harbor, the city of Los Angeles took possession of the site. Although only a few of the original buildings remain intact, they offer a unique glimpse into what Schmidt's vision for a town might have looked like.
To get to Murphy Ranch, go to the trailhead at the westernmost point of Casale Road; I recommend parking on adjacent streets due to the road's poor maneuverability. After hiking up a dirt path for about a mile, there will be a gate that looks like this: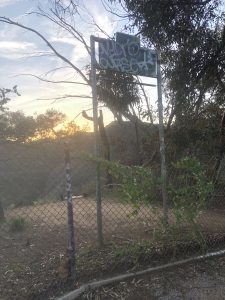 Just beyond the gate, you will see a long flight of stairs. Descend them until you reach a paved road, from which you can explore the town. To the left you will find public gardens, a bomb shelter and the building full of diesel generators, while to the right you can see the foundations of razed buildings along with various miscellanea such as abandoned bathtubs and broken chimneys.
With the dull roar of the Rustic Creek river echoing from below and the sun on your back, you are bound to have a fun day discovering the Santa Monica mountains before reaching the ruins of Murphy Ranch, where you can explore deserted infrastructure and enjoy the silence that reigns over the forgotten town. Consider making Murphy Ranch your next weekend getaway!