No college student prepares for their college experience to be full of virtual classes, online discussions, lack of social events, hours of back pain and burning eyes from staring at a computer all day while sitting at a desk. Whether you are a first-year or a returning student, the COVID-19 pandemic has hit with such great impact and caused significant lifestyle changes. It can be so easy to lose sight of what is valuable during this time, and it can be very appealing to lose drive and motivation, but it is important to continue our lives as ordinarily as we can for our sanity and mental health. Although it is far from ideal to be in school — especially college — under these circumstances, it is in everyone's best interest to make this school year feel like any other. To help make unconventional situations seem as conventional as possible, here is a list of things to do to feel like a college student during a global pandemic!
1. Get involved with clubs and student organizations.
Will it be harder to get involved in school with everything being online? Yes. Is it impossible? No. In fact, our generation is the best at figuring things out and getting connected via the internet!
Although it might take much more time and effort to find clubs and organizations to join virtually, the payoff will be worth it when you feel like you're actually a part of your student body. Check out UCLA's student organizations page and filter your search to find several clubs and organizations that are tailored toward you and your interests. You can join student associations for particular cultures, religions and backgrounds you affiliate yourself with to help become part of a smaller community that is meaningful to you. With the hundreds of available options, you are bound to find at least a couple of organizations that fascinate you!
Checking social media — what we do best — is another great way to stay updated with clubs and application cycles. Keep your eye out for posts and stories from the organization you're interested in, or see if they have a mailing list you can be added to!
The more you surround yourself with school-related activities, the more you'll feel like a real college student. Meetings may be online and held over group chats or Zoom sessions, but being part of a smaller community will help you feel more integrated into your student body.
2. Study and hang out on or around campus (if possible).
What's the best way to feel like an actual college student? By going to your college campus! Unfortunately, this is not possible for everyone, but if you're living on campus or close enough to campus, go as much as possible! Studying on benches or grass areas around campus is the best way to imitate college life.
At UCLA, even the Hill is slightly separate from campus, so if you're in a dorm, take the short and sweet stroll down BruinWalk to enjoy UCLA's beautiful campus. Janss Steps, the tables in front of and behind Kerckhoff Hall, the Sculpture Garden, and the benches hidden amongst the trees behind Powell Library are some great study-spot suggestions.
In any other year without a global pandemic restricting you, you would not catch yourself in your dorm room or apartment for hours on end. You would be attending classes in person, studying on campus between and after classes until dark, having dinner outside with friends and exploring your college town. If you can mimic any of these (safely) during this time, do so! Grab some friends to go study on campus with and wrap up your day with a late lunch or dinner picnic on the grass. This will have you feeling like you are actually living somewhat of a college life, and it will also be greatly beneficial to your mental health.
3. Create student groups with other students in your area.
Being out-of-state or far away from campus can be one of the hardest things to cope with when attending school virtually. No one is a fan of FOMO.
One good thing about being out-of-state or far from campus is that you know there are so many others in the same position as you. Use social media to find other students in your area attending UCLA, and create student groups that will help you feel like you are surrounded by your student body. Facebook groups and GroupMe's are especially popular for these situations. Take advantage of the virtual aspect and get connected with as many people in your area as possible. You could even get in touch with more people than you would talk to in person!
Classes are also a great way to meet new people. Join group chats for each of your classes, and within them, find out who else lives in your area. Once you've formed a little group, it will be so much easier to have study sessions or hangouts with other students near you, whether in person or virtually. This way, not only will you have surrounded yourself with your peers to make home feel like a campus-away-from-campus, but you will also have made new friends that you can see once you eventually get to campus. If these group chats don't already exist, make them! Take initiative and don't be afraid to be the one to organize things; that's what college is all about.
4. Attend virtual watch parties for sports and events.
Nothing screams college like tailgates and sports games — and nothing screams pandemic like the lack of these. Thankfully, many schools have chosen to continue on with sports with a few adjustments, such as having no in-person spectators. Although this sounds like it will drain all the fun out of it, you can create your own sports arena with friends!
Luckily, many schools have their sports games recorded and presented on television. This is the perfect opportunity to create a virtual watch party and get together with some peers to celebrate and cheer on your team. You can make it as extravagant or as relaxed as possible. Think of it like you're the one hosting the game.
You can dress up in all of your UCLA merchandise, have all of your favorite snacks and food, invite friends and family, and enjoy the game on your TV. This way you get a front-seat view and yummy food, all in the comfort of good company. No need to worry about long bathroom lines or missing part of the game. What's better?
Of course, never forget about following all safety measures and guidelines. Safety first and sports second!
5. Decorate your room or apartment like a dorm.
This pandemic has certainly created an array of housing options for many students. While some students have the opportunity to live on campus and others have the opportunity to get apartments nearby, some students are stuck at home.
Most students look forward to the idea of moving into the dorms and having a place of their own, especially surrounded by other students and friends. Although you might not be able to do this with the given circumstances, you could try to imitate it as much as possible. Doing a room makeover or decorating your apartment to look like a dorm can make you feel like you are living on campus or at least in a new place.
Paint your room a new color, move your furniture around, put up your school flags and pennants, and voila! Your makeshift dormitory! Of course, you can never forget the LED lights and photo walls or collages.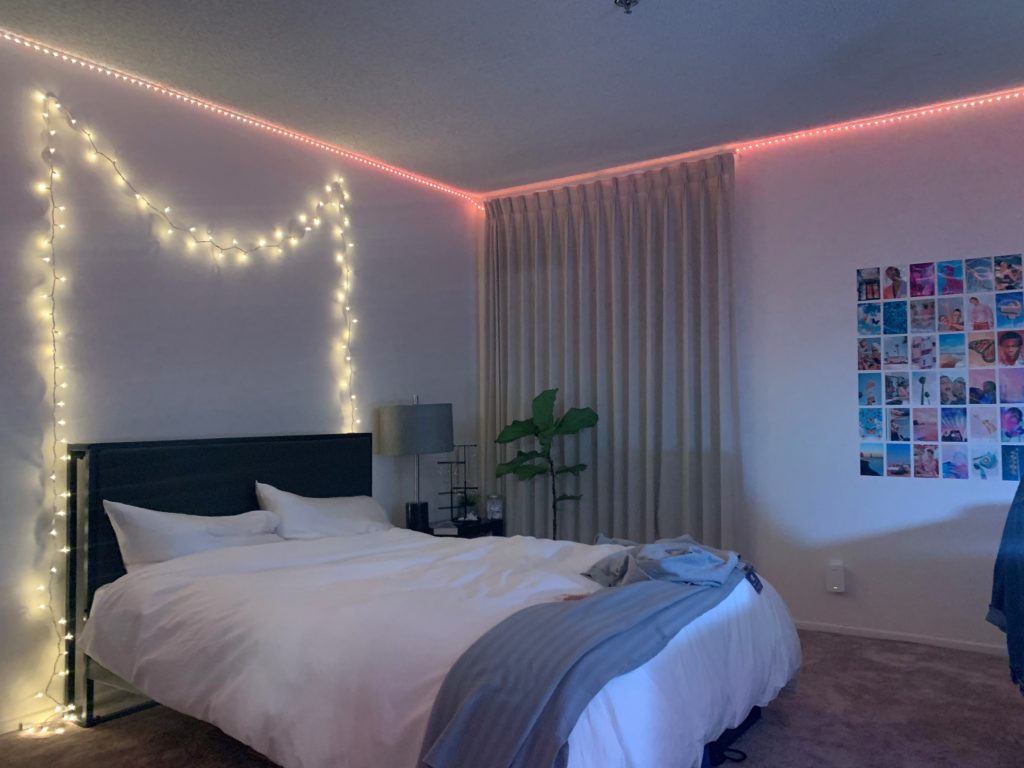 (Photo/Lea Ozdere)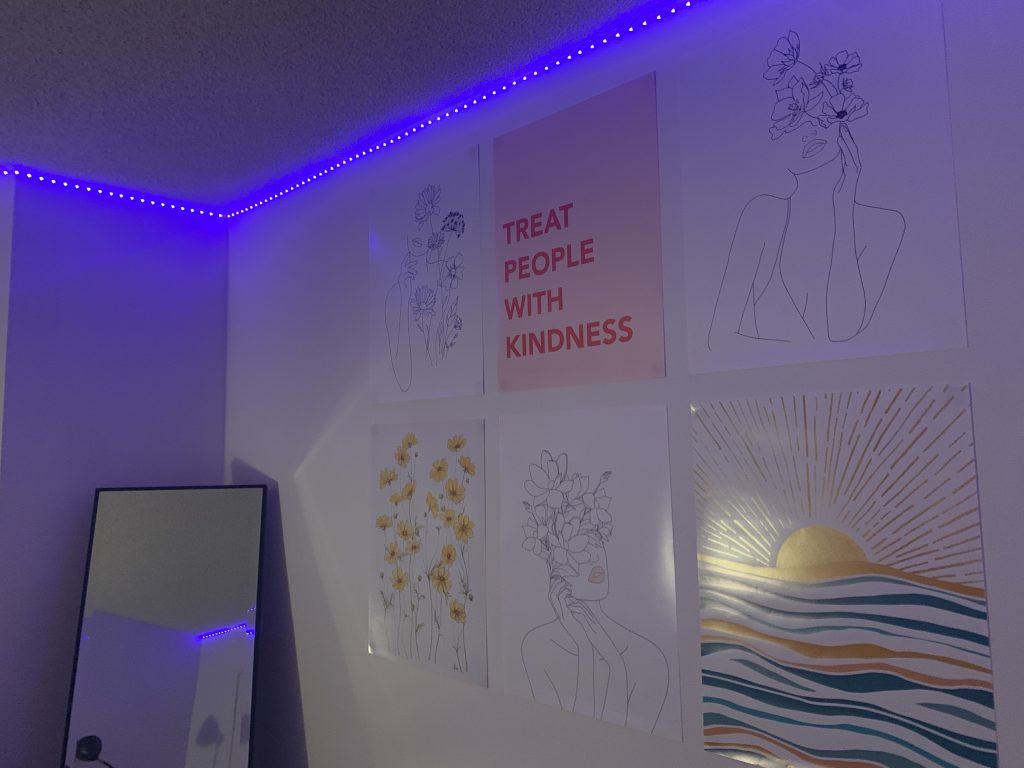 (Photo/Lea Ozdere)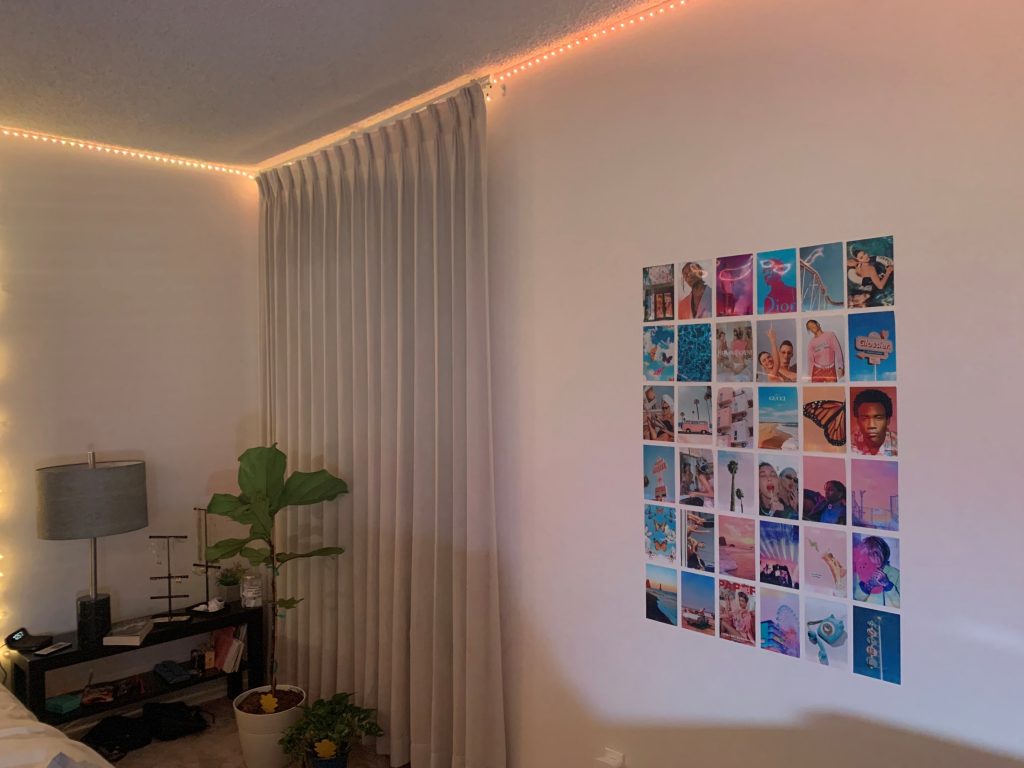 (Photo/Lea Ozdere)