Welcome incoming Bruins! As you embark on your exciting journey at UCLA, mark your calendars for these must-attend events that will introduce you to the rich traditions, diverse community and boundless spirit that make UCLA truly special.
True Bruin Welcome Week: Week Zero
First up is True Bruin Welcome Week! Held over the course of week zero (the week before classes start), this series of events will help you meet new people and get acclimated to all of the fun and excitement that UCLA and Westwood have to offer. While there are hundreds of events to choose from, I have listed a few of the most prominent below.
Westwood Village Block Party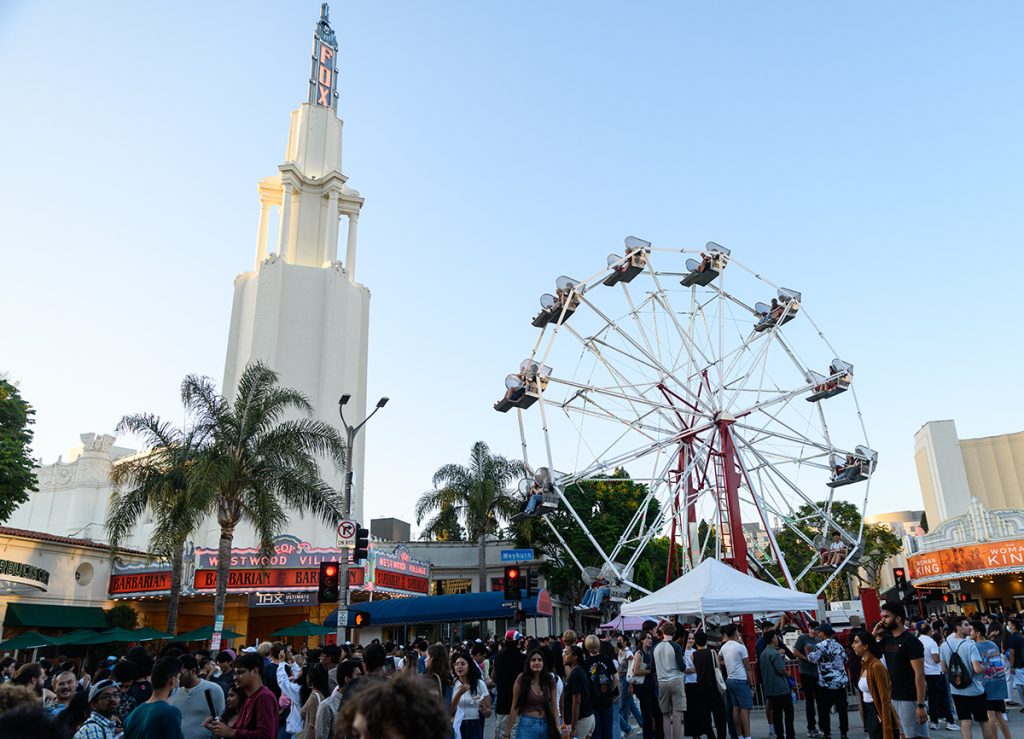 The Westwood Village Block Party welcomes thousands of visitors to gather in the streets and kick off the welcome week! From complimentary beverages and snacks, fun carnival games, pop-up booths from some of Westwood's favorite local vendors and even a Ferris wheel, the Block Party is the perfect start to your UCLA journey.
Bruin Bash
Sing and dance the night away at UCLA's Bruin Bash! Every year, UCLA's Campus Events Commission and Cultural Affairs Commission hold this special complimentary event on campus. Past performers have included Charli XCX, Rico Nasty, DaBaby and more! Beware, tickets sell incredibly fast, so be ready when they go on sale.
Enormous Activity Fair
Perhaps you've always dreamt of learning an instrument, perfecting your culinary skills or making a difference in the world through activism; now is the time to make these dreams a reality. If you're looking to get involved on campus, don't miss UCLA's Enormous Activity Fair. From cultural and academic clubs to sports and dance clubs, the fair is a treasure trove of endless exploration offering over 500 student organizations to peruse.
First Thursdays: First Thursday of every month
On the first Thursday of every month, Westwood comes to life with a village farmers' market during the day and a themed block party at night. From noon to 5 p.m., Broxton Avenue is closed off and filled with over 40 vendors offering local and organic produce, baked goods, prepared dishes, artisan goods, clothing, jewelry and more! At 7 p.m. the street is then transformed into a block party filled with music, food, interactive experiences and complimentary treats! No two block parties are alike, as each first Thursday welcomes a new and unique theme.
Spring Sing: Mid-May
Spring Sing is a beloved UCLA tradition that showcases the incredible talents of our student body. This annual event brings together singers, dancers, musicians and performers from various disciplines to compete in a spectacular showcase of creativity and entertainment. Whether you're a performer or simply want to support your fellow Bruins, Spring Sing is a night of pure magic and an opportunity to witness the immense talent that thrives within our campus community.
As you embark on your journey at UCLA, embrace these opportunities, make new friends and create unforgettable memories. Your time at UCLA will fly by, so seize every moment and make the most out of your college experience. Welcome to UCLA, Bruins!