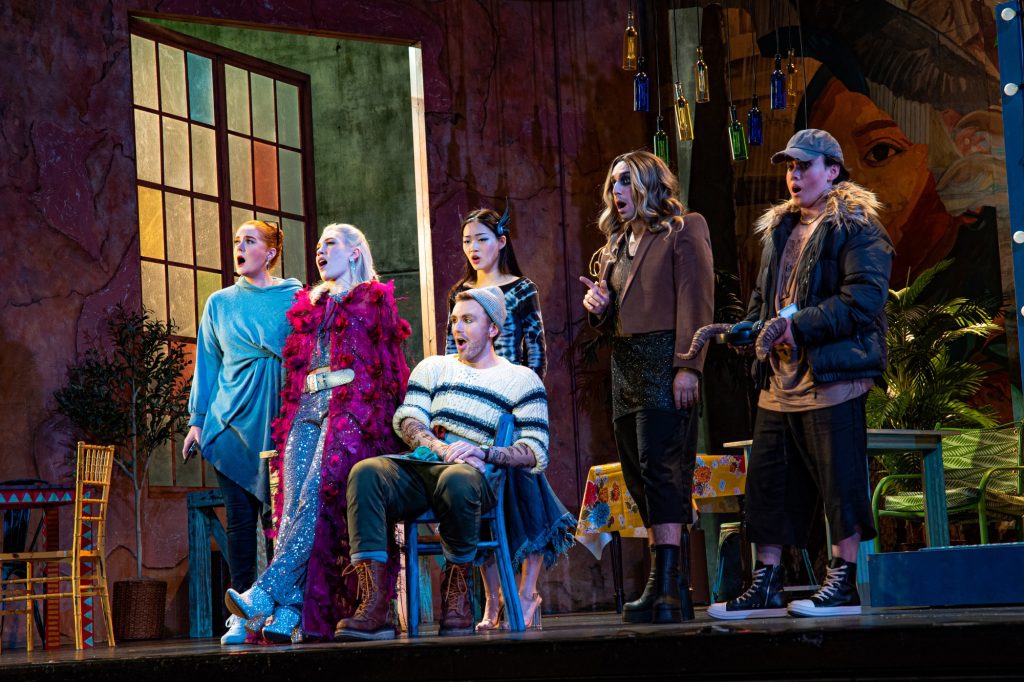 Baby dolls are thrown onto a stage amid a whirlwind of kaleidoscopic light changes. Poseidon, the mythical god of the oceans and brother of the mighty Zeus, finds himself running a coffeehouse in modern-day Los Angeles. A suffragette declares war on… childbirth?
What do all three of these things have in common? They all have their place in the free double-bill opera of Kay Rhie's and Amanda Hollander's "Quake" and Francis Poulenc's English adaptation of Guillaume Apollinaire's "Les Mamelles de Tirésias." This opera premieres this weekend at Freud Playhouse, presented by the UCLA Department of Theater and the Herb Alpert School of Music. "Quake" retells the story of Odysseus and Penelope in LA, where celebrities are the new gods. "Les Mamelles de Tirésias," originally written in post-World War II France, follows a suffragette's conquest of the world and centers on the theme of making love, not war.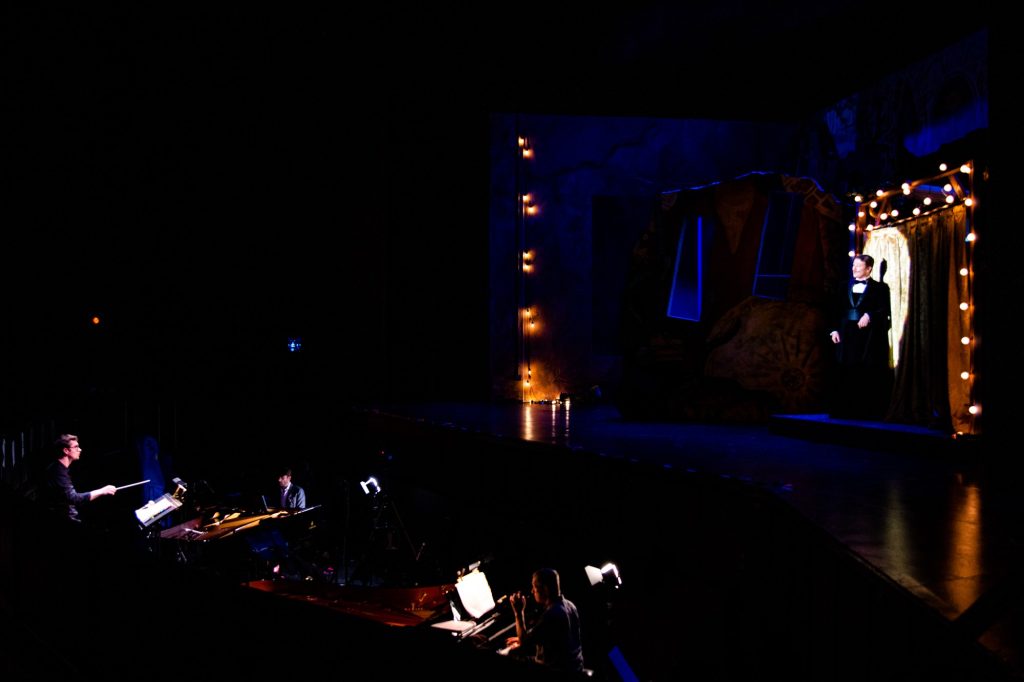 Students will be able to watch and enjoy these final crafts from a mixture of established and rising talents in the opera world. Rhie, whose "Quake" will premiere to the world at Freud Playhouse, has shown her work to audiences across the globe and has been distinguished by the American Academy of Arts and Letters with the Charles Ives Fellowship. Hollander, the writer of the lyrics to "Quake" and a UCLA doctoral graduate, is an industry-leading librettist and an accomplished fiction author. Alison Moritz, a director of both pieces being shown, has turned her magical eye toward the Freud Playhouse after a recent triumph restoring Leonard Bernstein's "Mass" at the Kennedy Center in Washington, D.C. Staci Mize, who is pursuing a Master of Fine Arts in directing here on campus, also directs both shows and is a name to follow for any theater aficionados. She has worked in playhouses across the United States with big-name creatives, such as David Byrne.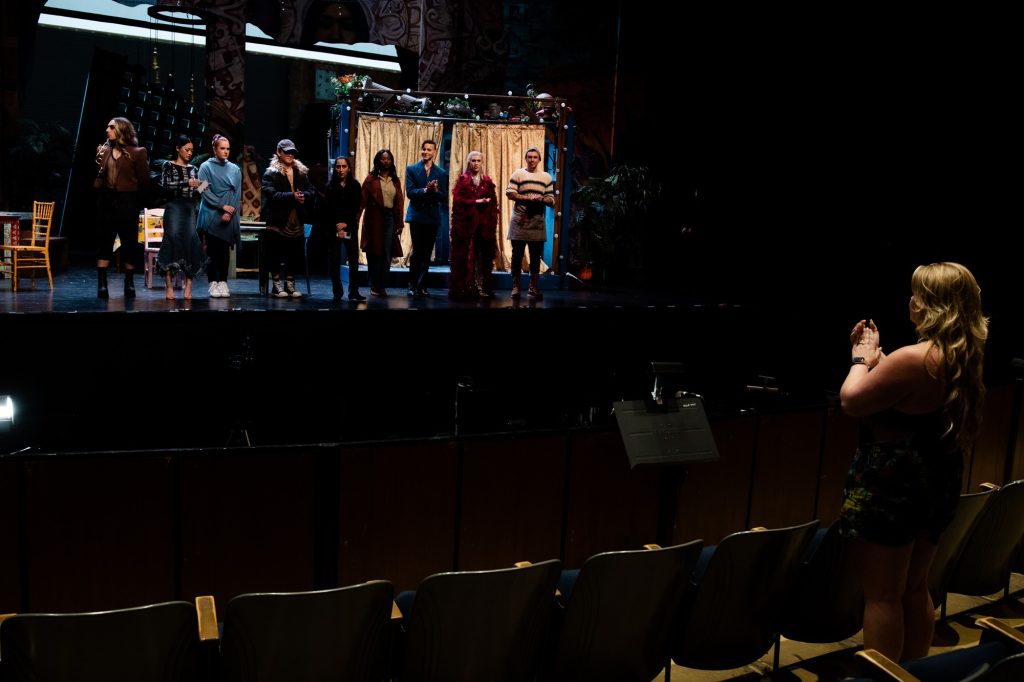 BruinLife's Finn Martin sat down with Staci Mize to hear more about her experience.
BruinLife: In your portfolio, you wrote, "The art you create is the rent you pay to your community." How, over the course of your production career, have you found meaning in these words?
Staci Mize: It always has depended on where the project is being produced. So, in an academic environment such as this one … the way that I've always repeated it to the student performers is, my job is to make sure that you feel comfortable, confident and excited to be on stage. If they feel that way on stage, then the audience will feel that way, so my community that I'm creating is not only onstage but with the audience. Similarly, I do a lot of sociopolitical work outside of school and, so, within that, you know, it's how do we create social change through entertainment. And so that's how it's always consistently bled through, and I do a lot of work with people with disabilities, with women's rights organizations … to make sure that every time I'm creating something it's not just entertainment, it's something that can create a bigger impact on a community overall.
BL: Would your dream be for the audience to stand up and walk out of here feeling inspired to make that change at their own level?
SM: Yeah, yeah, I would love to activate my audience members. That's the whole point of theater, I think, that we have … I believe it was Augustus Boal who wanted to create "spect-actors," where they were watching something and then activated to action, and that's what I would like for my audience … to not just be considering thoughtfully a question that I'm asking but to go out and see that question in real life and be empowered to act upon it.
BL: Your productions tonight, they reframe historical stories into more modern contexts, one of them from French to English, revisiting good ol' Odysseus and Penelope from way back when. Could you tell me what it was like, in that process of reviving these stories and bringing them here today, in LA especially?
SM: Sure thing. So, this is an interesting situation and I'm not sure it's gonna fully answer your question because I am actually the third director on the project. The production was conceived by a director out of New York called Mary Birnbaum — she's currently the artistic director for Saratoga Opera — and so she was looking at gentrification, and the state of Los Angeles, and she was looking at what would happen if we were to shake things up … literally, hahaha, in the sense of "Quake." And so when we looked at the double bill and were bringing in "Mamelle" as the second piece, there were a lot of questions regarding what would be the rebirth of Los Angeles … something that would actually happen, but in a more comical verse than in "Quake." It is a literal rebirth; we are making babies on stage and we have lots of inflatable genitalia, so it's very much of a raucous, raunchy type of French verse, so a comical rebirth of Los Angeles rather than the mythical state of LA as it's viewed by those outside of the city. So, mirroring those two concepts together with very outrageously different types of stories.
BL: I spotted the little baby dolls behind the stage. For almost the last decade you have worked in production, from Colorado to New York, arriving here for your master's. How does it feel to come here, and what is special about this program to you?
SM: Something that makes me different from my peers outside of Los Angeles is that I have a lot of bicoastal experience. Coming to LA, I knew … Let me rewind a little bit: I have a background in software engineering as well, and so I've worked a lot in this hybrid world of extremely analog theater and extremely high-tech theater, and so coming to LA where I knew I'd be a part of Hollywood, I wanted to incorporate things like technology and film into live production. And so even tonight I've been directing the cameras and livestream of this production and the recording of it for future compilations of the two operas. And so it's just always been a focus of mine like wherever I'm at … what is the nature of that city, what are the strengths, what are the weaknesses and how can I feed into both of those.
BL: In the spirit of Nicole Kidman's AMC commercial, why do we — the dorm-lifers, the commuters, the in- and out-of-state students, the Bruins — why do we come here, what magical feeling are we chasing in the theater?
SM: In the theater, I think it goes back to my first response — it's all about being activated by something. In a live theater instead of a movie theater, you're able to connect right there with a living being in front of you, and that's just something you're never going to get in a movie theater; as much as you can feel empathy for these characters or sympathy for these characters, it's just never going to be as visceral as it is in a theater. It's a place where we come to imagine with one another — I think Nicole Kidman even says that — but we come to imagine with one another and create worlds that are existing within this tension between the stage and the audience that is palpable and powerful and is something that you can carry with you, and with a really good production you start to imagine what it would be like to view it from every possible angle, and that's a very special experience because it's all happening right in front of you. It's the most imperfect and most human art form made by people period.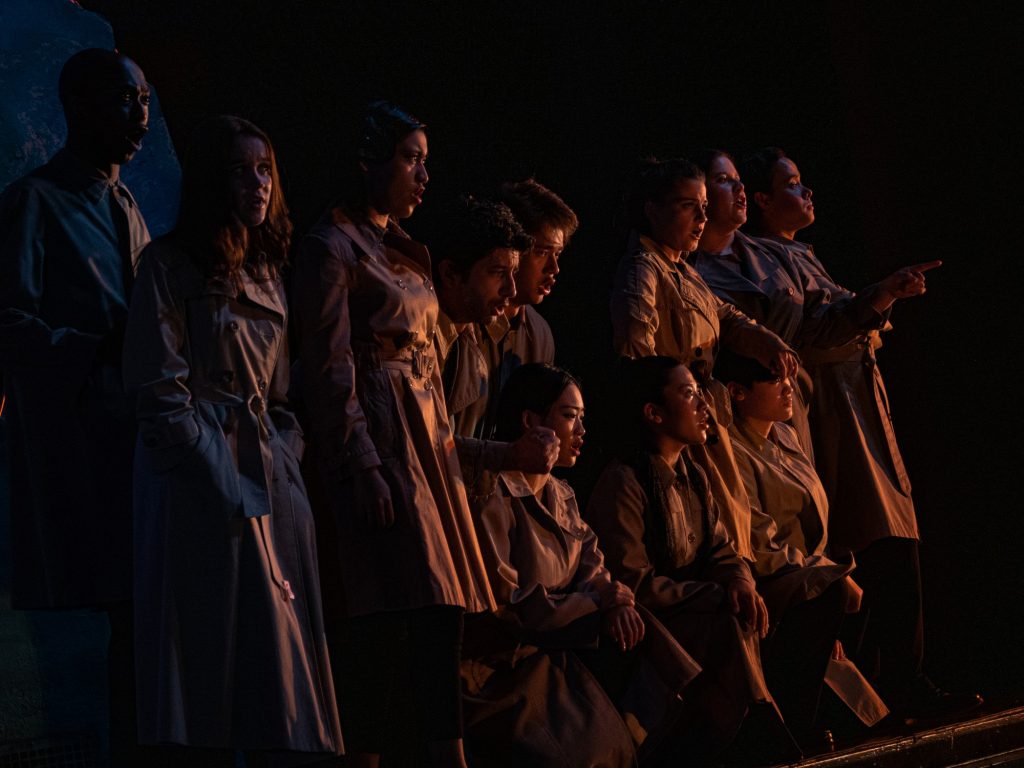 These dazzling performances are scheduled for Friday, June 2 at 8 p.m., Saturday, June 3 at 2 p.m. and 8 p.m., and Sunday, June 4 at 2 p.m. Seating at the Freud Playhouse is first come first serve, so arrive early to guarantee your spot!