Trying to choose between going to BFIT or the John Wooden Center? We've got you covered! Here are some pros and cons that avid gym-loving UCLA students said about their thoughts on BFIT versus Wooden!
Reasons Why BFIT is Better than Wooden (Pros of BFIT)


Photo from UCLA Recreation Facilities

Photo from UCLA Recreation Facilities
Many of the students who go to the gym said similar things when talking about the pros of going to BFIT versus going to Wooden to work out. Overall, the consensus regarding the environment was that BFIT seems cleaner than Wooden. Gym-goers said that the environment is cleaner and so are the water fountains where they fill up their water bottles. Third-year sociology undergraduate Sierra Denney remarked, "When going to BFIT, it overall just feels cleaner than Wooden."
People have also said that the equipment is nicer than the ones at Wooden. Due to BFIT being newer than Wooden, the equipment and architecture both feel nicer to students. Students have also claimed that BFIT has a larger variety of equipment compared to Wooden. Third-year biology major Quynh Nguyen commented, "All of the essential equipment is at BFIT including lots of cardio machines, weight racks and more. BFIT has a large variety and sets of dumbbells to use as well as many treadmills compared to Wooden."
In regards to the size of the gym, many students agreed that there are pros that come with BFIT's smaller size. Some students said that BFIT is much better to work out alone in compared to Wooden. "Since BFIT is smaller, it feels less intimidating to work out in and feels like a safe space for beginners," said third-year political science undergraduate Julia Rhodie. According to third-year environmental science student Jana Salomon, the smaller size also allows you to see where all of the equipment is at a glance, unlike in Wooden where you have to explore the whole gym area to navigate where all of the machines and equipment are located. The cleaning supplies inside BFIT are also easier to access in comparison to Wooden where there are multiple stations that are spread out and harder to locate.
Individuals also tended to favor BFIT more due to its convenience of location. BFIT is much closer to the dorms compared to Wooden, which is not located on the Hill. "BFIT is more convenient because it is closer to the dorms, which allows for easy access if you are in a hurry to workout," explained third-year electrical engineering major Evan Kirkham. Many other students said that BFIT is their favorite in comparison to Wooden because the TVs are always functioning properly whereas in Wooden many TVs are out of order. These are just a few pros that students brought up when being interviewed in regards to their thoughts on BFIT.
Reasons Why Wooden is Better than BFIT (Cons of BFIT)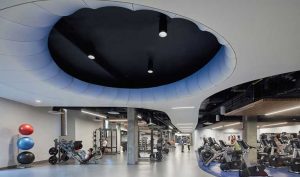 Inside of BFIT facilities. Photo from UCLA Newsroom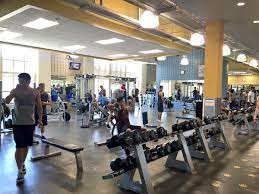 Inside of John Wooden Center facilities. Photo from UCLA Twitter @UCLA
Although students had many great things to say about BFIT, there are many things that BFIT lacks. Due to BFIT being smaller than Wooden, it often feels overcrowded. Since the gym is smaller in size, there are many gym-goers who want to use the machines but cannot because there are so many people working out at once. Rhodie elaborated on BFIT's small size, saying, "Although the equipment is nicer, they do not always have enough equipment for everyone. If it is crowded at BFIT, you may not be guaranteed equipment to work out."
Because of the size of the BFIT gym, it is also harder to work out with your friends. "Working out in big groups is hard at BFIT because the space and equipment (are) limited," said third-year pre-med anthropology student Olivia Carvallo. Many other students whom I interviewed also expressed that it is hard to do abdominal workouts because of the space limitations. Individuals expressed frustrations saying that there are not many mats or places to do abdominal workouts in secluded spaces. The bathrooms at BFIT are also smaller and limited in comparison to Wooden, which has many different bathroom areas. One student also pointed out that BFIT does not have paper towels in the bathrooms whereas Wooden does.
In regards to other cons, Salomon commented that they feel it is unfortunate that there are no recreational spaces at BFIT. "There are no recreational facilities such as volleyball, basketball courts, gymnastics (or) dance rooms at BFIT which does not give (students) freedom to do these activities," they said. Criticisms were also made in regards to BFIT's lack of mirrors. "Since there are no mirrors in front of the squat racks, it makes it difficult to check your form when lifting," Nguyen pointed out. These gym-goers also noticed that there is no StairMaster machine at BFIT, which is very unfortunate. The final critique that some students said was that, unlike other students' remarks, they felt that BFIT's equipment was dirty in comparison to the equipment at Wooden.
To conclude, whether it's BFIT or Wooden, choose the gym that suits you best! There are many pros and cons to both of the gyms, but find out which one is best for you. We hope that this pros and cons list has helped you find the perfect gym to work out in!