Bruins: feeling hurt from club application rejections? What if you took those hurt feelings to a club with a benevolent mission and no application process? And what if you found a passionate community full of hardworking, driven Bruins, while improving educational equity abroad?
She's the First, or STF, is an organization with over 30 collegiate chapters that works to improve girls' access to education globally. STF sees education as an essential step in achieving gender equity in the fight for women's liberation.
When I first began my freshman year, I didn't believe that joining clubs would have any sort of significant impact on my college experience outside of academic purposes. She's the First helped me find a community within the vastness of UCLA. I have met many close friends and inspiring, hardworking people through STF.
My personal love for the club is a shared sentiment. Annelise Bowser, president of She's the First, said, "I've been a part of She's the First at UCLA since the very beginning of my freshman year, and it has been such a meaningful aspect of my college experience. The opportunity to raise funds to advance educational equity globally means so much to me, as does our work to promote women's leadership within the UCLA community. STF has been a space for personal growth and reflection, has pushed me to develop as a leader and a member of a team, and, on top of everything, the club has brought some of my best friends into my life. I truly cannot imagine what my life at UCLA would look like without She's the First!"
Photo courtesy of @shesthefirstucla
STF sophomore member Isabella Crone-Baron said, "When coming to UCLA I would always get advice from upperclassmen to join clubs because 'that's where you make friends and find a community' and to be honest I really didn't understand it at first. Then I found She's the First! This club has shown me what it means to find a community in a club. I've been able to make such sweet friends and it's been such a welcoming, fun and kind atmosphere to be a part of! It's not every day you get to be a part of such an important movement for funding education, but also get to meet such wonderful people! I'm so grateful I joined She's the First. My college experience is all the better because of it!"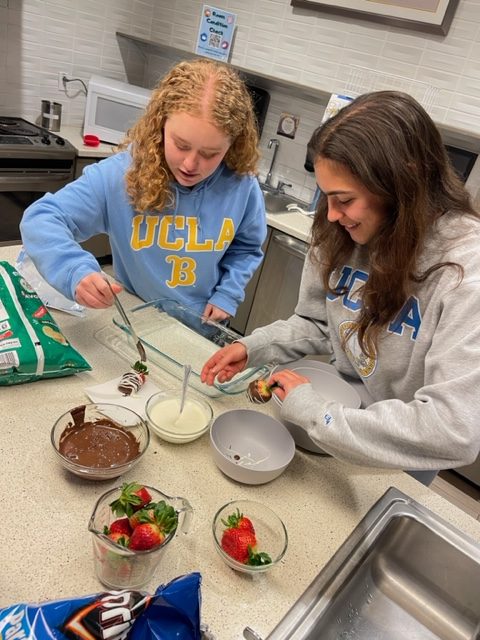 Photo courtesy of @shesthefirstucla
Through motivated fundraising efforts such as Valentine's Day grams, pizza fundraisers and an upcoming flea market sale, She's the First members are leaving a genuine impact on their community. While their mission itself is impressive, I was also struck by the passion and love members had for the club and each other. The welcoming community is filled with deeply kind and driven Bruins. STF members recently shared a cookie baking social, PowerPoint and game night, and plan to hit Bruin Walk next week with a donut sale fundraiser.
I've said it once and I'll say it again… consulting club rejects — it isn't the end! Once the new school year rolls around, consider joining She's the First.