As any student on campus would notice, the air quality throughout L.A. has dropped significantly. The hazy skies and falling ash would also help one conclude that something is amiss. This disturbance is due to the multitude of fires that have been raging throughout California. It seems as though the massive wildfires that have ravaged the state are becoming a common annual occurrence. For anyone who has lived in California for the past five years, this is probably not their first time experiencing the effects of a forest fire.
There are fires raging on all throughout California. In the North, the Camp Fire has destroyed the entire town of Paradise, leaving 23 dead. At least 6,700 structures have been burnt down in this fire alone. Currently the largest, the Camp Fire is around 110,000 acres large. As of now it is 25% contained, however, upcoming winds are anticipated to widen the fire's domain.
Meanwhile, close to UCLA, the Woolsey and Hill Fire have yet to be contained at all in Malibu and other areas of Southern California. Strong winds and dry conditions fueled this fire's explosion in size last weekend. The Woolsey and Camp Fires are currently around 80,000 and 109,000 acres respectively. These fires are the cause of the poor air quality in UCLA and throughout L.A. county.
One of UCLA's neighbors Pepperdine University was nearly caught in the Woolsey Fire's path. Only through the coordinated efforts of several L.A. county fire departments were the 3,600 students sheltering on campus saved.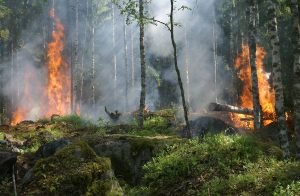 The destruction caused by the California fires has been devastating. The amount of life and property loss is a severe detriment to California and the United States itself. The state is in desperate need of government aid. Despite this, the President Trump has threatened to rescind the aid, blaming poor forest management by the state as the cause of the fires.
This years string of fires have been some of the most destructive in California's long history of fall blazes. It is not difficult to state that more should be done to prepare for the inevitable fires that seem to return to California every fall. That being said, if an army invaded California, destroyed thousands of structures and killed dozens of people, would federal action not be expected?