Hello to the Los Angeles content creators, photographers, models, UCLA students and enthusiasts! I am going to talk about some of the most popular and best spots to take pictures on the UCLA campus. Keep reading if you want to plan your graduation picture shoots and LinkedIn headshots, or if you just want to post some content on Instagram.
1. Royce Hall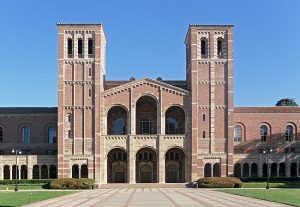 Photo from Wikipedia
Whether you are a student at UCLA or just a resident of Westwood, Royce Hall is a great photo spot. It is famous for its twin-towered front as well as its Lombard Romanesque-style architecture made out of brick and tile. This is the spot that almost all UCLA students go to take their graduation pics and headshots. Third-year psychology student Nicole Do said that "(t)aking pics in front of Royce is a staple for every UCLA student's LinkedIn account." Taking photos here is ideal because it is one of the most iconic spots on campus and is one of the four original UCLA buildings on campus! Many people see an image of Royce and can immediately recognize that it is UCLA.
2. Janss Steps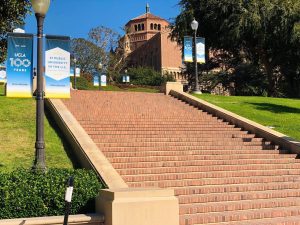 Photo from Total Wellness
Janss Steps is a great place to take pictures and work out your leg muscles! It has been featured in several films, including "Nutty Professor" and "Old School." From the top of this staircase, you can see a great view of campus as well as the central and west sides of UCLA. Third-year anthropology undergraduate Olivia Carvallo said, "The view from the top of Janss Steps is one of my favorite places on campus." This is a great place to take pictures either from the bottom of the staircase or at the top!
3. Bruin Bear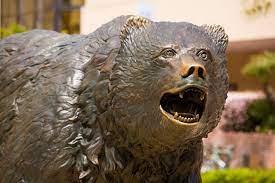 Photo from UCLA Bruin Blog
If you have ever walked on campus near Bruin Walk, you have probably seen the famous Bruin Bear! The Bruin Bear is a large statue (10 feet long and 6 feet tall, to be exact) made of bronze. It is near the UCLA Store and the John Wooden Center, so it is hard to miss. Many people take pictures here on their college visits, for their graduation photos or if they're just walking to class. Third-year math and accounting student Lindsay Hanashiro said that "(t)he Bruin Bear captures our school pride and it is also cute to pose with."
4. The Sculpture Garden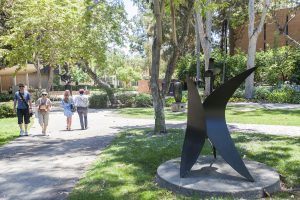 Photo from Time Out
Although this is somewhat of a long walk from the previous photo spot, the Sculpture Garden is a picturesque and secluded area with wide-open spaces of greenery as well as foliage. This is a perfect place to take pictures of either you, the statues or you with the statues! The Sculpture Garden is very serene and will make you forget you are on the UCLA campus. Third-year physics student Rafael Cooper said, "The Sculpture Garden is one of my favorite places on campus to take pictures on the grass." It is great for graduation photos as well as scenery pictures if you are interested in art.
5. The Inverted Fountain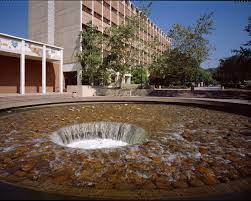 Photo from UCLA Asian Languages and Cultures Department
Almost all UCLA students know where the Inverted Fountain is, either from going on UCLA tours in high school or exploring on campus during Week Zero. This location is famous for students getting "Bruintized," which is when a freshman at UCLA dips their hands in the water and says an oath. Students know this spot well for being a miniature waterfall that goes into a 12-foot-wide, 5-foot-deep center. It also makes South Campus sound very tranquil and teleports you to nature while still being in the city. Graduating students like to take their pictures here because they were not allowed to touch the fountain water since their freshman year, or else they would supposedly be cursed by staying at UCLA an extra quarter. Third-year electrical engineering student Evan Kirkham said, "When I graduate, I want to take a picture inside of the fountain."