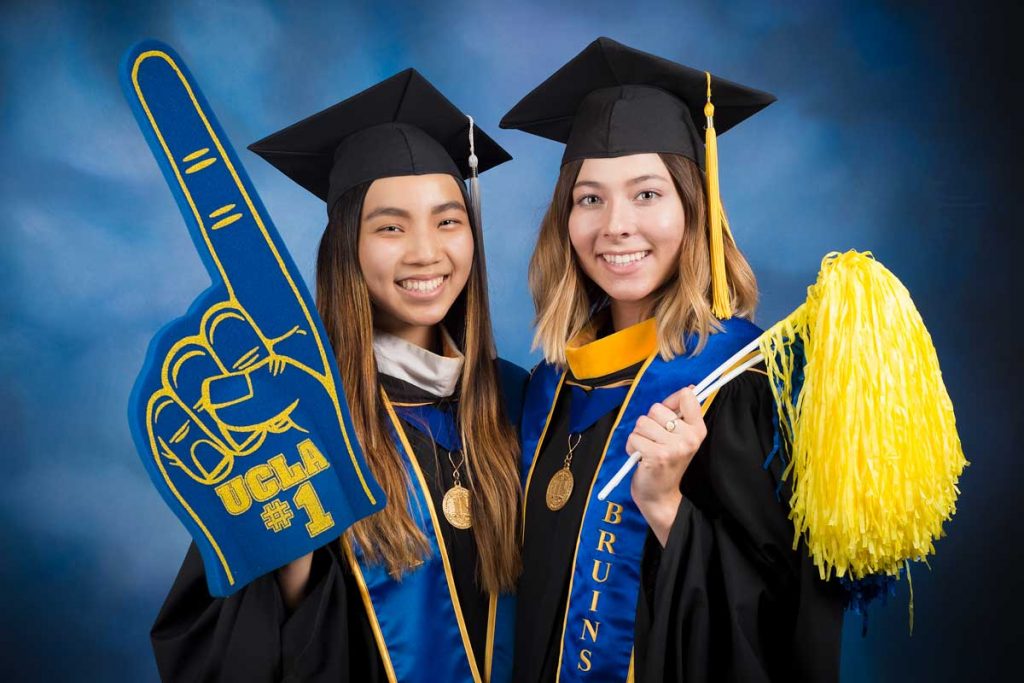 Aside from your diploma, the only thing that proves you went to UCLA is your senior portrait in the official UCLA yearbook.
It's Easy to Take Your Portrait:
---
BruinLife Photo Studio
BruinLife Photo Studio is located inside the student media offices of 118 Kerckhoff Hall. The studio provides high quality graduation photos that will automatically be placed in the yearbook.
How to set up an appointment: Click here to make an appointment online or call 310-825-2640 for availabilities.
BL Photo Studio will be taking photos for the yearbook up until July 30, 2021.
Be pictured in the BruinLife Yearbook. In 10+ years, your friends and family may be interested in seeing what UCLA was like when you went to college, so your picture in the yearbook would give support to your stories of failing (or acing) those UCLA exams, late nights at local bars, or doing research with that world renowned professor who is conveniently featured on page 135. Plus, an old college yearbook is always good for laughs about how you looked "back in the day."
Congratulations Class of 2021
While our photo studio on campus is open for graduation photos, we understand that many students may not be local and/or for health reasons are unable to come to campus for a sitting.
For this reason, we have created the following guidelines for those wishing to submit a graduation photo to be included in the yearbook.
Pricing: Grad portrait submissions cost $15 as this covers the cost of generating the senior section. This fee can be waived with the purchase of a yearbook.
There are 2 ways of submitting a photo that the yearbook staff will allow. However, they both must meet the following:
Criteria:
Solid white backdrop.

This is to allow us to edit the photo to match the backdrop being used in the BruinLife Photo Studio.
All other colors will be rejected

Black gown only.

For the yearbook pose, subjects must wear only a black graduation gown.

No Props, No Hat and No Sash
Consistent Lighting

Subject must be evenly lit.

File must be 300 DPI
File must be 1 MB minimum
No blurred images. No pixelated images. No grain/noise in photo.
Photo must be from waist up
NO looking away photos. NO exaggerated head tilts or head rotations. Must be either left, center or right body rotations with face looking straight at camera.
DEADLINE: June 11, 2021
Samples
Option 1: Outside Studio (preferred method):
Go to a photo studio of your choice and inform them of the above criteria.
For outside studios submissions, you must also upload a Copyright Release Form that is officially signed by the studio. Otherwise, your submission will be rejected. Please note that this usually requires you to purchase the digital file to attain the copyright release form.
Option 2: Do It Yourself
It is possible to take your photo yourself. However, customers choosing this option will have their photos evaluated more stringily for quality. We recommend this only to customers who have access to decent photo equipment.
Use a DSLR camera or any camera that allows to shoot in RAW format.
SHOOT in RAW. JPGS will not be allowed via this method
Follow the same criteria above
Pay attention that the background is as white as possible.
Avoid photographing in direct sunlight
Ensure that subject is properly exposed and evenly lit. No shadows on face, etc.
Purchase Appropriate Submission Product