Whether you're craving an avocado toast, celebrating a birthday or seeking aesthetic restaurants for an Instagram post, there are endless options for brunch spots in Los Angeles. The incredible cuisine and restaurant diversity can seem both delicious and daunting. You probably remember spending hours trying to find a new brunch spot that's cute, not too costly and close by, only to get overwhelmed and stick with your usual spot. If you're in the mood to try something new or you simply don't know where to start looking, here are five brunch spots that are delicious, a reasonable distance from campus and have unique aesthetics.
Name: Élephante
Location: Santa Monica
Instagram: @elephante
Distance from UCLA: 4.7 miles / ~17 minutes
Price of an average meal: $16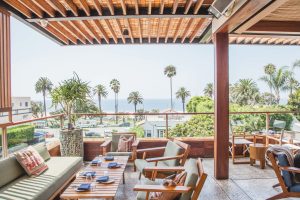 Photo by Bella Marie Adams via TimeOut
A tried-and-true favorite, Élephante is a casual Italian restaurant located in Santa Monica. The restaurant has a modern and relaxed feel, with beautiful flora and wooden decor to elevate its beachy elegance. There is both an indoor and outdoor seating area, and the patio has stunning views of the beach and palm trees as well as beautiful blue waters to top it all off. Notable dishes include artisan pizzas, Italian specialties like bomboloni donuts and a staple of Los Angeles brunch culture: avocado toast. If you want an aesthetic setting for pictures with your friends alongside delicious Italian food, look no further than Élephante.
Name: Great White
Location: Venice
Instagram: @greatwhite
Distance from UCLA: 5.9 miles / ~24 minutes
Price of an average meal: $16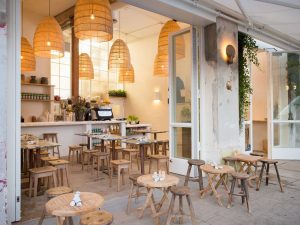 Photo by The Salty Shutters via Eater Los Angeles
A restaurant that truly belongs in LA, Great White in Venice is the epitome of elegance and aesthetic. Think natural minimalism — cream colors, bamboo furnishings and plenty of green and wheat plants. This restaurant serves traditional Californian cuisine including burritos, toast and of course, plenty of menu items containing fresh, ripe avocado. What makes Great White really stand out are their smoothie bowls; there are so many options and the fruit is fresh and oh so colorful.
Name: Blueys Market & Café
Location: Santa Monica
Instagram: @blueyskitchen
Distance from UCLA: 2.9 miles / ~12 minutes
Price of an average meal: $14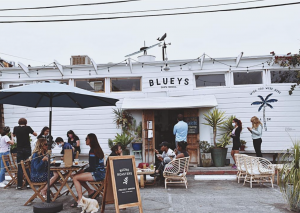 Photo via Zach Williams
If you want a more low-key option for brunch, Blueys is the destination for you. It's your neighborhood cafe and market — small, less expensive than the other full-scale restaurants on this list and basic (but no less delicious) menu items. Think elevated basic meals with an artisan twist. Menu items include harvest bowls, sandwiches, salads, fruit and the like. The ingredients are fresh, the ambiance is rustic and quaint, and they offer many delicious drinks in their cafe. To put it simply, you can't go wrong with Blueys. It's cute and yummy and will have you coming back for more.
Name: Belle's Beach House
Location: Venice
Instagram: @bellesbeachhouse
Distance from UCLA: 6 miles / ~24 minutes
Price of an average meal: $14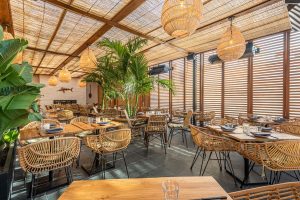 Photo by Wonho Frank Lee via Eater Los Angeles
Only a block away from Great White, Belle's Beach House is one of the most unique brunch spots. This retro tiki bar and restaurant serves Hawaiian Izakaya cuisine with authentic flavors integrated into American staples to create mouthwatering dishes. Examples of dishes you could order include matcha waffles, grilled sweet corn and passion fruit yogurt bowls. Combined with the green and tan colors and leafy decor, you will feel like you stepped right into a tropical oasis.
Name: etta
Location: Culver City
Instagram: @ettarestaurant_la
Distance from UCLA: 4.8 miles / ~16 minutes
Price of an average meal: $20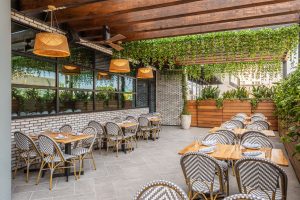 Photo by Wonho Frank Lee via Eater Los Angeles
With lush greens hanging from every wall and ceiling, etta seems more like a greenhouse than a restaurant. This restaurant is centered around a wood-fired hearth and serve signature dishes alongside sophisticated basics. If you go, try dishes like the chicken and waffle tower, bouquet latte with lavender and rose or the signature kouign amann sticky buns that are only available for brunch. Their weekend brunch runs from 11:00 a.m. to 2:00 p.m., so make a reservation, eat your heart out and take beautiful pictures in this elegant and aesthetic eatery.